Published On
Security tightened at Patiala's Punjabi University amid student protests
150 police personnel were deployed as students demanded action over recent tragic incidents. Author :
Malkit Singh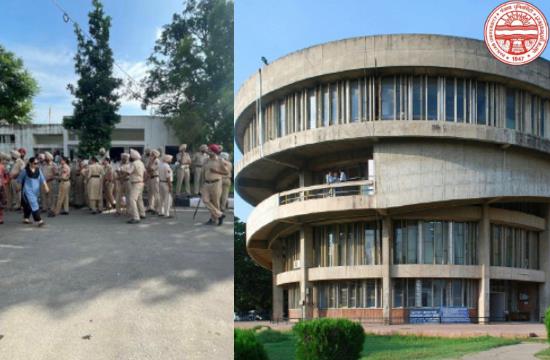 Patiala: Punjabi University in Patiala witnessed increased security measures on Monday, with about 150 police officers deployed in response to a peaceful protest organized by student organizations.
The students were demanding the registration of a police case against a professor as well as the withdrawal of an FIR filed against university students.
These acts followed the recent terrible occurrence involving the death of a female student and an attack on the professor.
Several days before the deployment of security forces, student organizations such as the United Sikh Students' Federation, the Students' Organization of India, and the Secular Youth Federation of India stated their intention to organize this protest.
Their core demands centered on the registration of a case against the professor, the immediate exoneration of the professor from all charges on campus, and the retraction of the police case filed against the students.
Also Read: Ganesh Chaturthi 2023: Celebrate with Blessings, Joy, and Warm Wishes
The university campus saw a noticeable increase in security personnel during this period, with police personnel stationed at key points such as the main gate, parking lots, and rear entrances.
DSP City-2 Jaswinder Singh Tiwana and Urban Estate SHO Amandeep Singh were present on-site to engage with the students and encourage them to keep the gates open, maintaining a dialogue throughout the protest.
Furthermore, it's worth noting that the university had a reduced student presence due to a series of holidays that began the previous Friday.
Additionally, in preparation for Ganesh Chaturthi on Tuesday, academic activities on the campus had been temporarily suspended.
Despite these factors, approximately 60 students gathered at the campus gate to express solidarity with the family of the deceased girl and to actively participate in the protest.