Published On
Raju Srivastava Death: 8 Bigg Boss celebrities whose tragic and 'mysterious' demise shocked everyone
With Raju Srivastava's demise, a total of 8 Bigg Boss celebrities or let's say people linked to it have died in the past few years.
Author :
Ujjwal Samrat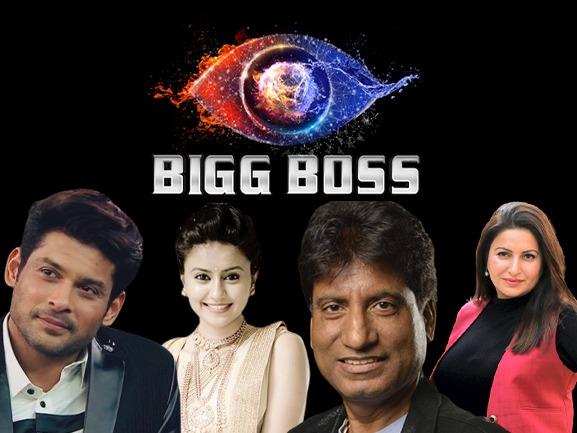 In a sad development, Actor-comedian Raju Srivastava on Wednesday passed at AIIMS Delhi. Raju Srivastava, 58-year-old, was admitted to the hospital in the National Capital after suffering a cardiac arrest while gyming. Post his hospitalisation, Raju Srivastava was kept on a ventilator and even underwent angioplasty. When Raju Srivastava was in the hospital, his friends including Shekhar Suman, Sunil Pal, and more shared his health update. In fact, another comedian Ehsan Qureshi stated that Raju Srivastava's fans are doing havans and even worshiping his well-being as he desperately needs it. However, Raju Srivastava on September 21 breathed last. With Raju Srivastava's demise, the Bigg Boss reality show has lost another former contestant. In fact, a total of 8 Bigg Boss celebrities or let's say people linked to it have died in the past few years. Below is the list of Bigg Boss contestants who passed away in the past few years-
1) Sidharth Shukla
'Balika Vadhu' fame television actor who appeared in Bigg Boss 13 passed away at the age of 40. Sidharth Shukla died of a heart attack on 2nd September 2021, leaving his fans and the acting fraternity in shock. Officials from Mumbai's Cooper Hospital had said that the 40-year-old actor was brought dead to the hospital. Police officers in Mumbai said had said that Shukla complained of chest pain at his residence in Oshiwara, Mumbai, around 9 am, before collapsing. Sidharth Shukla's death came as tragic news for his fans and India's entertainment industry as the actor seemed physically fit. Not only this, Shukla's death also shocked 'SIDNAZ' fans. For the unversed, Punjabi actress Shehnaaz Gill's name was often linked to Sidharth Shukla ever since the duo met in the Bigg Boss 13 house.
2)Pratushya Banerjee
'Balika Vadhu' fame Television actress Pratyusha Banerjee who appeared in the Bigg Boss 7 passed away on April 1, 2016. Pratyusha Banerjee was found dead at her residence in Mumbai. The Mumbai police declared it a case of suicide. Her family and friends accused her boyfriend, Rahul Raj Singh, of abetment of suicide. However, the actor denied all the allegations and maintained that he was in a happy relationship with Pratyusha and could have never done anything to harass her or upset her. Her parents registered an FIR with the local Bangur Nagar police station alleging that Rahul Raj who was in live-in relationship with their daughter had tortured the actress and drove her to commit suicide. Rahul himself was never arrested as he was granted anticipatory bail soon after the FIR was registered.
3) Jayashree Ramaiah
Famous Kannada actress and former Bigg Boss Kannada contestant Jayashree Ramaiah was found dead in her residence on 25th January 2021. Jayashree was reportedly found hanging at an old age in Bengaluru. Reportedly, Jayashree who was battling depression and therefore died by suicide. Jayashree was 30 years old when she breathed her last. Jayashree's unnatural death has sent shockwaves in the Kannada film industry with many celebrities grieving her loss.
4) Somadas
Malayali singer and former Bigg Boss Malayalam contestant Somadas passed away due to cardiac arrest. The 42-year-old, who was under treatment for COVID-19 at Kollam medical college, suffered a heart attack on January 31. The singer rose to fame as a contestant in the iconic reality show, 'Star Singer'. Even though he couldn't win the title, Somadas was one of the popular contestants in the 2008 show. Notably, Somdas had left Bigg Boss Malayalam midway due to a medical emergency. Bigg Boss advised Somadas to quit the show after diagnosing with high BP, sugar, and cholesterol as well.
Raju Srivastava Death: Actor-Comedian passes away aged 58 at AIIMS, family confirms
5) Swami Om
Swami Om also known for a very controversial stint on Bigg Boss 10, died on February 3, 2021, in Delhi. Reportedly, Swami Om had been very ill for a while and was undergoing treatment at AIIMS. He had also suffered a paralysis attack, post which his health deteriorated drastically until he passed away. Furthermore, Swami Om had also tested positive for the novel coronavirus, and however, he had recovered from it. Swami Om and Salman Khan were at the loggerheads as the Bigg Boss host had kicked him out of the show for allegedly throwing his urine of other fellow contestants to win a task. Swami Om was also beaten many times during a TV debates and shows for his controversial remarks on air.
6) Pista Dhakad
Although not a celebrity, Pista Dhakad was a Talent manager who handled various Bigg Boss celebrities, and passed away following a road accident on January 16, 2022. Pista met with the accident near Film City while returning home from the Bigg Boss 14 Weekend Ka Vaar shoot. She was in her early 20s. Pista was on a scooter with another person when it slipped, throwing both the persons on the road. After the pack up, Pista and an assistant left the venue on an Activa scooter. The Activa slipped, fell into a hole and both of them were thrown on the road. Pista fell on the road and a vanity van came from behind and ran over her by accident. She died on the spot.
7) Sonali Phogat
BJP leader and actress Sonali Phogat who appeared in Bigg Boss 14 died of a heart attack in Goa. The 43-year-old leader had complained of uneasiness to her staff after which she was taken to the hospital. Notably, Sonali Phogat was brought dead to a private hospital in Anjuna on August 23, 2022. The police had said she was given an 'obnoxious' substance mixed with water to drink. Two of her colleagues, Sudhir Sagwan and Sukhwinder Singh, were arrested under the charge of murder. It is pertinent to mention here that CBI is probing the death of Sonali Phogat.