Published On
Raju Srivastava: Instance when the comedian slammed Bollywood for hurting Hindu's sentiments and controversy thereafter
In a video released in January last year, actor-comedian called out to makers and especially Saif Ali Khan for mocking Hindu gods and appealed to Hindus to stand against these acts
Author :
Tushar Singh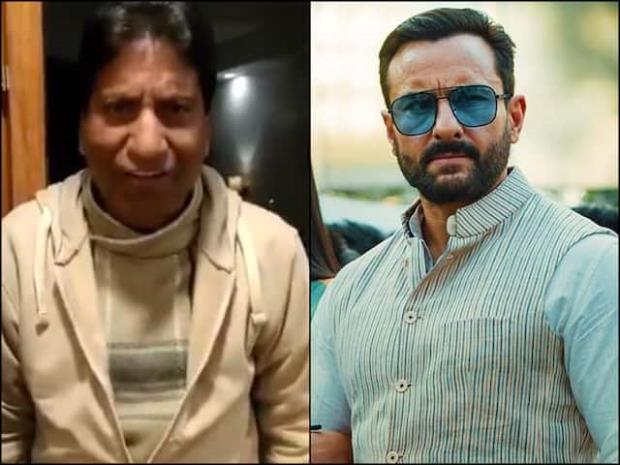 Actor-Comedian turned politician Raju Srivastava passed away aged 58, weeks after suffering cardiac arrest in Delhi, family confirms.
Raju Srivastava was admitted to AIIMS Delhi on August 10th after he complained of heart pain and fell on the ground immediately. He also served as the Chairman of the Uttar Pradesh Film Development Council.
In a career spanning three-plus decades, veteran actor Raju Srivastava earned several fame to his credit besides being a top-notch stand-up comedian.
However, post-entry into politics his career has also been gripped by controversy over his personal comments about fellow actors and his bashing of Bollywood for mocking Hindu Gods.
One such comment was around the release of Saif Ali Khan's political drama 'Tandav.' Which was heavily criticized for hurting Hindu Sentiments that saw Raju Srivastava releasing a video of him launching a critical attack on the makers and personally on Saif Ali Khan.
In the video, Srivastava aggressively appealed to Hindus to wake up to these calls that are intentionally made to ignite our religious sentiments and alleged that Bollywood has been doing this for years.
In the course of the video, Srivastava challenged the makers of doing a similar show or dare to perform similar acts against other religions.
As soon as the video went viral on social media people took to Twitter and other platforms to criticize Raju Srivastava over his similar yet different show years back in which he was involved in a comic conversation with Lord Brahma and Parodying Ramayana with sensational reporting of modern times.
Raju Srivastava heart attack: Actor-comedian biography, personal life, film and political career; Explained
Filmmaker Vinod Kapri was among the lead respondents to Srivastava's scathing attack wherein he took to Twitter and commented on Raju's Hindu Phobic remark after sharing his old videos making mimicry of Hindu Gods and Hindu mythology.
In the much-talked video of Srivastava, he can be seen promising Lord Brahma of arranging a meeting with Madhuri Dixit.
Later in the same video, Srivastava adds that many foreign companies are collaborating with Indian partners to strengthen their position in India, and Brahma should also think of such collaborations.
Owing to this controversy Srivastava was heavily criticized during that period by Netizens, because of his dual stand years later. Many commented on this colossal change in Srivastava, which was coming due to BJP's effect.
Raju's health has remained critical ever since he was admitted to AIIMS Delhi. His friend cum colleague Sunil Pal was in continuous touch with his family and kept his fans and people appraised about his health conditions.
Raju's innings in the entertainment industry were not huge but has surely carved a name for himself after years of appearances in the comic role and Gajodhar's act of his will remain forever alive in our hearts.