Published On
Rajya Sabha Election Voting LIVE: 6 MLAs voted in Rajasthan before the SC hearing, interesting results are expected on Karnataka's fourth seat
Voting has started for 16 Rajya Sabha seats in four states. 
Author :
Chanderveer Singh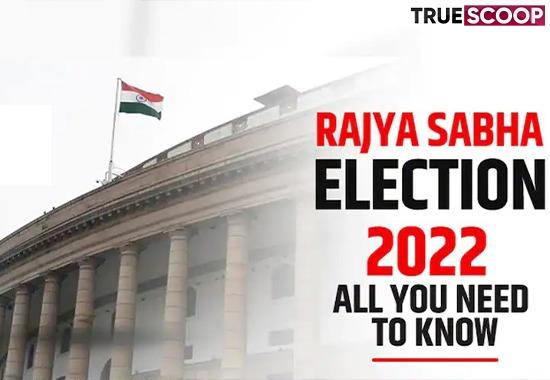 Voting is underway for 16 Rajyasabha seats in four states. These states include 4 seats in Rajasthan, 2 in Haryana, 6 in Maharashtra, and 4 in Karnataka. In Rajasthan, Chief Minister Ashok Gehlot cast the first vote.
50% of voting has been done in Maharashtra in one and a half hours. 143 MLAs have cast their votes, including 60 from BJP and 20 from Congress.
The hearing has been started in the Bombay High Court on whether minister Nawab Malik and former minister Anil Deshmukh will be able to vote in the Rajya Sabha elections. The decision of the Special PMLA Court has been challenged in the Bombay High Court.
BJP MLA from Pune Mukta Tilak was brought to Vidhan Bhavan in an ambulance. Owaisi's party AIMIM decided to support Congress candidate Imran Pratapgarhi to defeat BJP in Maharashtra. However, Shiv Sena will get benefitted from this.
Before the hearing in the Supreme Court, 6 MLAs who came to the Congress from Rajasthan BSP cast their votes. After CM Ashok Gehlot, these six MLAs cast their votes. Congress has done this as a strategy. Union Minister Narendra Singh Tomar has said that there is a BJP candidate whose victory is sure. The surplus votes will be given to independent candidate Subhash Chandra. Who else will support him, only Subhash Chandra knows about it.
Raj Thackeray's party MNS has attacked Shiv Sena. MNS has said that Shiv Sena took support from Owaisi, and because of this his Hindutva has been exposed. He does not hesitate to seek support from the descendants of the Nizam as well.
Shiv Sena leader Sanjay Raut has claimed that all the candidates of Mahavikas Aghadi will register a victory. "We have enough support," he said.
On the other hand, given the possibility of horse-trading of MLAs in Rajasthan, the administration has stopped the internet for 12 hours in the Amer region.
Three candidates Mukul Wasnik, Randeep Surjewala, and Pramod Tiwari are in the fray from the Congress. The votes of 123 MLAs are required for the three candidates, while the government currently has the support of 126 MLAs, of which 107 are from Congress. As long as the angry or independent MLAs do not go here and there, the victory of Congress is confirmed.
Congress candidate Ajay Maken can win only if he gets the vote of 30 out of the total 31 MLAs of the Congress, but the kind of factionalism that dominates the Congress, the path of Maken does not look easy.
In the 224-seat Karnataka Assembly, Congress has 70 MLAs, BJP has 121 MLAs and JDS has 32 MLAs.
In Karnataka, each candidate needs the votes of 45 MLAs to win. In such a situation, the ruling BJP can easily win two out of four seats, while the Congress can win one.