Published On
Real vs Reel: Is Blonde a true story based on Hollywood actress Marilyn Monroe? Let's find out
The answer to this question is Yes. Blonde is a true story based on the personal and professional life of late Hollywood actress Marilyn Monroe. Netflix's Blonde is based on the 2000 Pulitzer Prize-shortlisted novel of the same name by Joyce Carol Oates
Author :
Ujjwal Samrat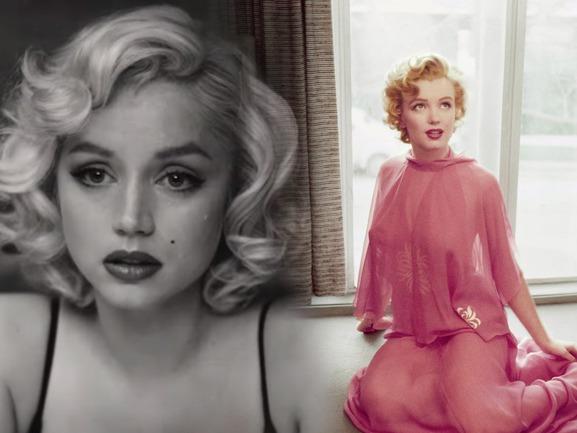 Global OTT giant Netflix is all set for the release of its much-awaited project movie named Blonde. Ever since the Blonde trailer has been released on Netflix's social media handles, fans around the world are eager to watch the movie. Written and directed by Andrew Dominik, Blonde will be released on Netflix on September 28. Hollywood actress Ana de Armas will be seen playing the title role and apart from her actors like Adrien Brody, Bobby Cannavale, Julianne Nicholson, Caspar Phillipson, Sara Paxton and more will also be seen in pivotal roles. Blonde will be Ana de Armas' one of the most challenging roles as previously, the 34-year-old actress was seen in movies like Knock Knock, War Dogs, Hands of Stones, and Blade Runner 2049. In fact, Ana de Armas has also played Bond girl Paloma in the James Bond film No Time to Die (2021). Now, the question arises of whether Blonde is a true story or Blonde is a real story or not.
The answer to this question is Yes. Blonde is a true story based on the personal and professional life of late Hollywood actress Marilyn Monroe. Netflix's Blonde is based on the 2000 Pulitzer Prize-shortlisted novel of the same name by Joyce Carol Oates. In Blonde, Ana de Armas will be seen portraying the character of Marilyn Monroe. Those who are wondering whether Blonde is a biopic of Marilyn Monroe, the answer is a big no, as Andrew Dominik-directorial has taken inspiration from real events, figures, and long-held rumors from the actor's life as a jumping point to imagine what Monroe may have thought and felt. Just like Oates' Pulitzer Prize-shortlisted book, some scenes of Blonde might be a work of fiction.
Now, coming to Hollywood legendary actress Marilyn Monroe, even after so many years of her death, she has been regarded as a major icon of pop culture. Despite having a hard childhood i.e. living in foster homes and orphanages, Marilyn Monroe went on to become the biggest actress Hollywood has ever got. Although Marilyn Monroe delivered many fine works in Hollywood, she is still remembered for her 'blonde bombshell' characters. Her stature in Hollywood is so tall that even reality TV star Kim Kardashian wore her 'collector' dress at the Met Gala. The success of Marilyn Monroe can be understood by seeing the box office numbers i.e. her films grossed $200 million (equivalent to $2 billion in 2021) by the time of her death in 1962. In 1999, the American Film Institute ranked her sixth on their list of the greatest female screen legends from the Golden Age of Hollywood. However, the legendary Hollywood actress had a complicated professional and personal life. In 1962, Marilyn died because Barbiturate overdose. Barbiturates are drugs that cause relaxation and sleepiness. A barbiturate overdose occurs when someone takes more than the normal or recommended amount of this medicine.
OTT Release this week: From Blonde to Riteish Deshmukh's rom-com, a list of top hits on web space this week
Coming to the plot of Blonde, its synopsis says, "Ana de Armas is Marilyn Monroe in Blonde, coming to Netflix this September. From Writer and Director Andrew Dominik, and based on the bestselling novel by Joyce Carol Oates, Blonde boldly reimagines the complicated life of icon Marilyn Monroe. Blurring the lines of fact and fiction, the film artfully explores the tension between her public and private life."
Now, with the countdown for Blode OTT release date has begun, it will interesting to see whether fans will give a thumbs up to the much-awaited movie or not.