Published On
Real vs Reel: Is Sam Bahadur based on a true story of Field Marshal Sam Manekshaw?
The answer is Yes. Sam Bahadur is a biopic based on the story of Field Marshal Sam Manekshaw. Author :
Guneet kaur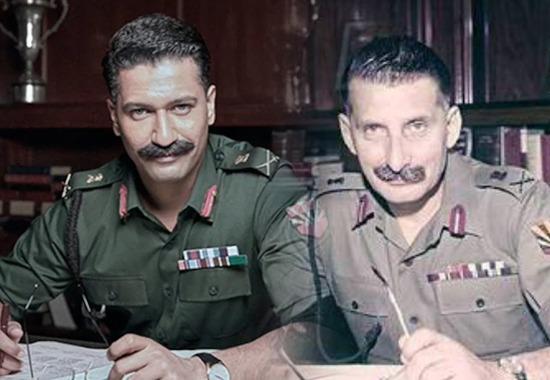 Vicky Kaushal's much-awaited film will be soon available for its audience to watch on big screen. Vicky Kaushal starring Sam Bahadur under the direction of Meghna Gulzar dropped its teaser on December 1, 2022. Sam Bahadur's teaser released on Thursday shows the actor dressed in an Indian Army uniform and walking amidst Army personnel, the face of main lead in the film is not shown. The film also stars Sanya Malhotra and Fatima Sana Sheikh. Vicky Kaushal starrer Sam Bahadur is all set to release in theatres on 1st December 2023. The question that rises is whether Sam Bahadur is based on a true story or not.
The answer is Yes. Sam Bahadur is a biopic based on the story of Field Marshal Sam Manekshaw. Sam Manekshaw is India's first field marshal. He has given more than 40 years of his life in Indian Army serving the country and has played a great role in multiple wars. Adding to his achievements further, Sam Manekshaw was the first ever Indian Army Officer promoted to rank of Field Marshal. Not only this, but due to his win in 1971 Indo-Pak war Bangladesh was created. Field Marshal Shamsherji Hormusji Framji Jamshedji Manekshaw was popularly known as Sam Bahadur because of the battles he fought for the country. He began his service in British Indian Army during the time of World War II. He then became the 8th Chief of Army Staff in Indian Army and led many wars against Pakistan.
Talking about his background, Sam Bahadur or Sam Manekshaw was born in Amritsar, Punjab and his father was a doctor while his mother was a homemaker. He then completed his schooling in Punjab and then moved to Sherwood College, Nainital. Sam Bahadur achieved distinction in School Certification Exam of Cambridge Board at the young age of 15 years. Later on, Sam Manekshaw asked his father to send him to London as he wanted to become a gynaecologist but the decision was rejected by his father. He then to rebel gave entrance examination to Indian Military Academy and was successful in getting into it. On 4 February 1934, he graduated from IMA and was commissioned as a second lieutenant in the British Indian Army which is now known as the Indian Army.
Sam Manekshaw died on 27th June 2008 at the age of 94 in Military Hospital of Wellington. Every year on December 16, Vijay Diwas is celebrated in memory of victory achieved under his leadership.
Vicky Kaushal took to Instagram account and announced the release date of his upcoming film featuring Sanya Malhotra and Fatima Sana Sheikh Sam Bahadur. He captioned it as, "365 days to go… SamBahadur in cinemas 1.12.2023."