We has obtained a copy of actress Rhea Chakraborty's chargesheet, which contains some surprising information from her full confession to the Narcotics Control Bureau (NCB). Rhea admitted in the NCB chargesheet that she was supplied marijuana and vodka by Saif Ali Khan and Amrita Singh's daughter, actress Sara Ali Khan.
In relation with the Sushant Singh Rajput drugs case, the confession statement was recorded.

Rhea told NCB about her conversation with Sara on June 4, 2017. Sara suggests giving Rhea rolled marijuana joints and vodka in the talk. Sara used to have hand-rolled doobies with her, which she would share with Rhea, according to the actress.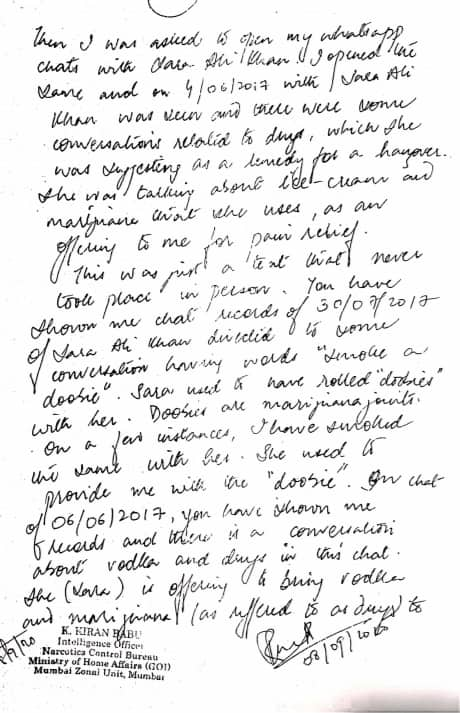 The NCB summoned Sara Ali Khan last year in connection with the Sushant Singh Rajput narcotics case, in which she admitted to dating the actor briefly and accompanied him on a vacation to Thailand. Also Read: Rhea Chakraborty to NCB: Sushant Singh Rajput's Sister, Brother-in-Law Consumed Marijuana With SSR

Since Sushant Singh Rajput's sad death last year, Rhea Chakraborty, who was dating and in a live-in relationship with him, has been in the spotlight. Sushant's family has filed a FIR against the actress, accusing her of aiding suicide and stealing money from the late actor. Both claims have been strongly refuted by Rhea.

Rhea spent 28 days in jail last year in connection with the narcotics nexus investigated by NCB during the investigation into Sushant Singh Rajput's death.

Actor Sushant Singh Rajput was discovered dead in his Bandra home on June 14, 2020. The situation has been investigated by numerous government agencies like CBI, ED and NCB after the actor's family and fans raised concerns.