It will be a year since the late actor Sushant Singh Rajput passed away. On June 14, 2020, he committed suicide in his Bandra residence. Following the death of the Kedarnath actor, various government institutions, such as the Central Bureau of Investigation, a lot transpired this year (CBI).
Not only CBI but, The Enforcement Directorate (ED) and the Narcotics Control Bureau (NCB) were involved in the SSR death case and is still investigating it. Sushant Singh Rajput's girlfriend Rhea Chakraborty's allegations and confession to NCB have made headlines in the days leading up to his death anniversary. The narcotics agency apprehended Rhea because of her ties to the drug gang.


Recently, Rhea Chakraborty's confessed to some alarming charges against Sushant's sister and brother-in-law in NCB charge sheet. The Chehre actor spoke about Sushant's use of the Clonazepam drug and how she knew he could have died while living with his sister Meetu Singh. Sushant Singh Rajput had been an addict for a long time since before she met him, according to Rhea's admission.Finally, Rhea claimed that Sushant's family was also involved in drug consumption.
"I would also like to add, that on the 8th June 2020, Sushant Singh Rajput received a WhatsApp message from his sister Priyanka Singh telling him to take Librium 10 mg, Nexito etc. which are drugs under the NDPS Act 1985," stated Rhea Rhea Chakraborty chargesheet
Also Read: Dilip Kumar Hospitalised, Saira Banu Asks Fans to "Keep Him In Prayers"

She further alleged, "She (Priyanka) had also provided a prescription by Dr Tarun, who is a cardiologist and has marked Sushant as an OPD patient, without consulting or meeting or online consultation with Sushant."

The actress declared this to be a possible reason for his untimely demise. "I would like and request you to kindly take note that these drugs could have caused his untimely death as his sister Meetu was living with him from 8-12 June. I have also informed this to Mumbai Police and they have taken cognizance of the issue." See Rhea Chakraborty's chargesheet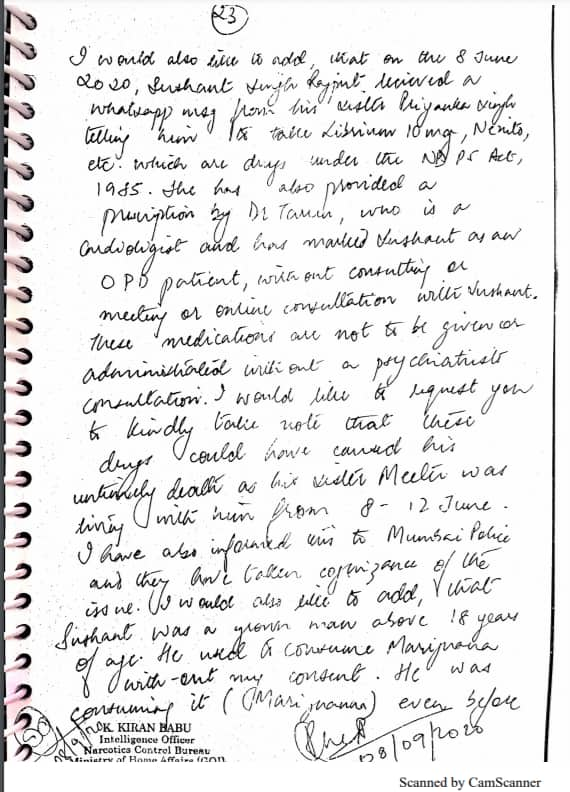 His death is being investigated by the Central Bureau of Investigation (CBI), the Narcotics Control Bureau (NCB), which is looking into the drugs aspect, and the Enforcement Directorate (ED), which is looking into the money laundering issue.