Published On
Russian Mobilization: "That's it playtimes over you're soldiers now" Officer screams on new recruits as Moscow gears up for war: Watch
Putin's move of military mobilization has sparked a massive backlash in Russia, with people protesting over the incident, for days while others have resorted to fleeing the country through Georgia as the threat looms ove
Author :
Tushar Singh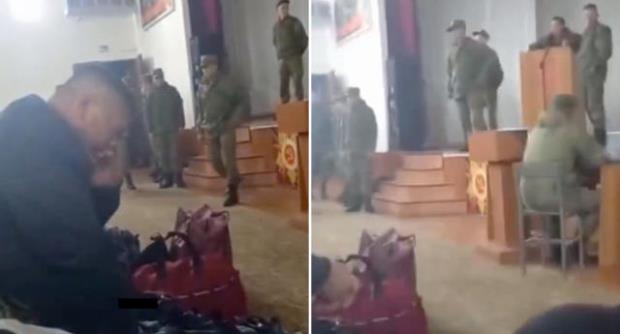 Days after Russian President Vladimir Putin's infamous speech announcing Military mobilization in a war against Ukraine a video is widely being shared on social media showing military personnel commanding young recruits, yelling at them to be in order.
A one-and-a-half-minute video shows men assembled in a closed auditorium with people in military uniform explaining to them the scenario and terms associated with the service, since "they are in the military now."
The video posted by a journalist at ABC News, Patrick Revell also showed men sitting right in affront of the Military officers with baggage, clearly showing their latest deployment at the center in a move, where Russia prepares for the war ahead.
Watch Here:
Another revealing video. Scene inside a mustering station in Russia where an officer yells at angry, resentful men who have been mobilized.
"That's it- playtime's over. You're soldiers now!"
pic.twitter.com/oTfomvgsUf

— Patrick Reevell (@Reevellp) September 23, 2022
Putin's move of military mobilization has sparked a massive backlash in Russia, with people protesting over the incident, for days while others have resorted to fleeing the country through Georgia as the threat looms over.
US Green Card: Panel proposes fresh recommendations on the country's citizenship, know-how will it help Indian immigrants to the US
Kremlin has made its intention very much clear of its stand on Ukraine and has even threatened of taking the nuclear route if deemed necessary. The officer in the video can be heard telling the crowd of young men "That's it- playtimes over You're soldiers now!" in Russian.
A Series of videos making rounds on social media showing long lines of vehicles at the checkpoints on the Russia-Georgia, Kazakhstan, and Mongolia borders as they attempt to flee the country fearing the aggression.
Several reports have emerged that claim Russian authority has begun working on its plan towards the announcement of 300,000 Russian mobilizations as they prepare ahead for a prolonged war against Ukraine.