Published On
Russian troops caught castrating 'prisoner' Ukrainian soldier with box-cutter in 'sick' viral video
In Russia castrating viral video, netizens can see Putin's soldiers using a Stanley knife (box cutter) to slice off the testicles (Castration) of a Ukrainian soldier
Author :
Ujjwal Samrat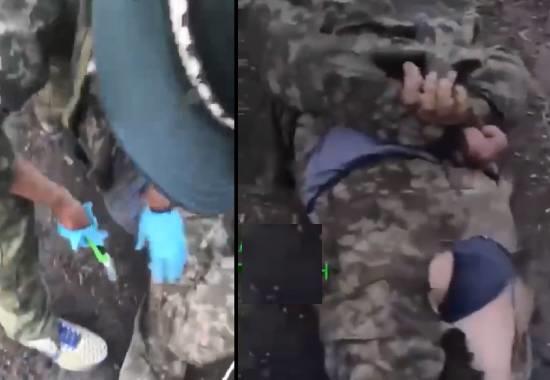 It has been more than 4 months since
Russian
President Vladimir Putin declared 'special military operation' over Ukraine, but the war is far from over. While the world is divided into pro-Ukraine section & pro-Russia, few nations have maintained their stance neutrality, especially India. However, there are some war crimes on which even the non-aligned countries cannot stay mute. One such heinous and sick incident has come to the fore amid the Russia-Ukraine war. Russian soldiers castrating video has been doing rounds on social media with netizens expressing their shock and anger over the ongoing war.
Recently, a video went viral on social media alleging that the Russian soldiers filmed themselves castrating a 'prisoner of war' Ukrainian soldier. In Russia castrating viral video, netizens can see Putin's soldiers using a Stanley knife (box cutter) to slice off the testicles (Castration) of a Ukrainian soldier, who is awake and bound with his hands behind him as they do it.
DailyMail UK quoted Aric Toler, from investigative website Bellingcat, who suggested that the Russia viral castration video is not fake at all and the footage is genuine. It is pertinent to mention here that Ukrainians have identified the Russian soldier who performed the castration and his pictures are being widely circulated on social media.