Published On
Saharanpur: Food served inside the toilet to U-17 women Kabaddi players in UP in a viral video; Watch
As per several reports, the incident dates a couple of days back when the U-17 level state women Kabaddi players were taking part in a tournament in the Western UP district
Author :
Tushar Singh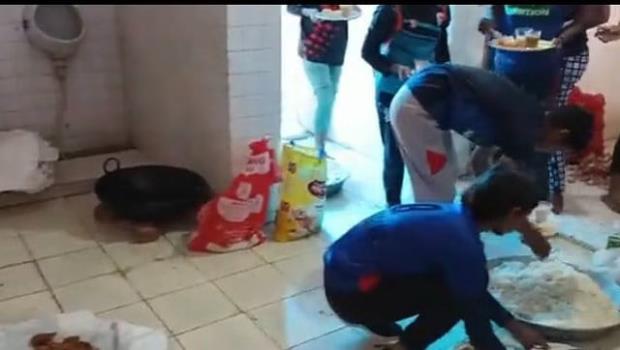 A shocking yet bizarre incident recorded on camera has been making rounds on social media, showcasing the food being served inside the toilet in UP's Saharanpur.
As per several reports, the incident dates a couple of days back when the U-17 level state women Kabaddi players were taking part in a tournament in the Western UP district.
The video has been going viral and has left Netizens on the boil over the poor condition of the administration in the state. The incident caught the attention of several politicians from the opposition and the video has also been posted through the Congress's official Twitter handle.
The players serving food kept on the floor of the toilets through themselves. Vessels were placed right next to the platform of Urinal pots, and at a couple of meters' distance, 'pooris' were kept on the floor on a piece of paper.
The government swung into action soon after the controversy came to light through viral videos and suspended the district sports officer Animesh Saxena, he claimed that the food was kept inside owing to space crunch.
Watch Here:
Noida Viral Video: 4 people dead as 100-meter-long boundary wall of housing society falls off, watch
In UP's Saharanpur, video of players attending the state level girl's U-16 Kabaddi tournament being served food kept on the floor of toilet at the sports stadium has surfaced.

Video by @sachingupta787 pic.twitter.com/12dYRlMofH

— Piyush Rai (@Benarasiyaa) September 20, 2022
BJP was caught amidst a storm after the video went viral where Congress tweeted "The BJP can spend crores on various campaigns, but does not have money to make proper arrangements for players."
TRS social media convener Y Satish Reddy was quick to react and launched a scathing attack on the UP government. While Jayant Yadav of UP's Rashtriya Lok Dal party also responded in this regard.
Union Sports Minister Anurag Thakur came to the defense and condemn the act saying strict action will be taken against the accused contractor and officials.
He said, "I've directed strict action against the accused contractor and officers. I have also directed that the contractor be blacklisted for the future."