SFJ terrorist Gurpatwant Singh Pannu's Amritsar & Chandigarh properties seized by NIA in crackdown on Khalistan
NIA seizes properties of Khalistani terrorist Gurpatwant Singh Pannu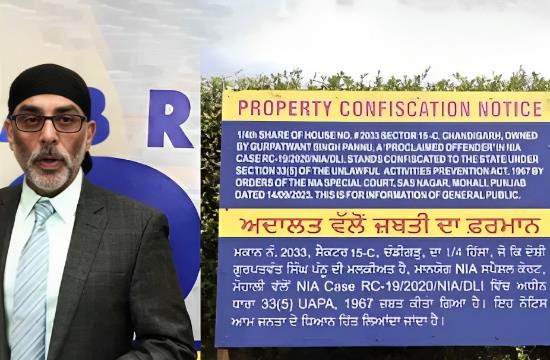 -

In a significant move, India's National Investigation Agency (NIA) has seized properties belonging to Khalistani terrorist Gurpatwant Singh Pannu in Punjab and Chandigarh. Pannu is the chief of the banned organization Sikhs for Justice (SFJ), known for consistently engaging in anti-India rhetoric and activities abroad. His recent threats targeted not only Indians but also Hindus residing in Canada.

Properties confiscated

The NIA has seized a 46-acre property in Khan Kot village, Amritsar, which holds great agricultural significance for Pannu, given its ancestral ties. Furthermore, Pannu's residence in Sector 15 C, Chandigarh, which was initially attached in 2020, has also been confiscated. Legally, Pannu no longer owns these properties, as they have now been transferred to government ownership.

Background

In 2019, the Indian government banned SFJ, accusing it of engaging in unlawful activities and promoting separatism and militancy in Punjab. The Ministry of Home Affairs, in its notification, stated that SFJ had been supporting the cause of Khalistan and endorsing extremist and militant ideologies among Punjabi Sikh youth.

Pannu was officially declared a terrorist under the Unlawful Activities (Prevention) Act (UAPA) in July 2020 for his alleged involvement in promoting extremism and encouraging Punjabi Sikh youth to take up arms.

Pannu's legal troubles

Also Read: Trained in Pakistan: Inside story of Hardeep Singh Nijjar's crimes unmasked in India's dossier

Gurpatwant Singh Pannu has faced approximately a dozen cases filed against him in India, including several related to sedition. The NIA has cited multiple instances of his social media activities, where he openly supported various extremist views and advocated for violence.

Pannu maintains an active presence on social media platforms, disseminating messages in Punjabi to influence youth against India. He has previously displayed the Khalistani flag on government buildings in Punjab and Haryana, offering monetary incentives to those who did so.

During the recent G20 meeting, he even instigated anti-India slogans at a metro station in Delhi, further inciting unrest among the youth.

Threats to Canada

Notably, Gurpatwant Singh Pannu had issued threats against Indians and Hindus living in Canada. He released two videos just three days ago, one of which claimed that Canada belonged solely to Khalistanis, insinuating that Hindus residing there would need to change their religion or leave. In another video, he threatened to close down Indian diplomatic missions in Vancouver, Ottawa, and Toronto, while SFJ announced the "Death of India" campaign.

Pannu's active presence on social media has made him a prominent figure in influencing Punjabi Sikh youth. His actions have been viewed with concern by Indian authorities, leading to the seizure of his properties as a part of a larger effort to curb separatist and extremist activities.