Published On
'Shame on BJP' trends on Twitter following Nupur Sharma's remarks, OIC countries 'strong' protest & more
On Thursday, 'ShameOnBJP' continued to trend on Twitter with the hashtag.
Author :
Rohit Gupta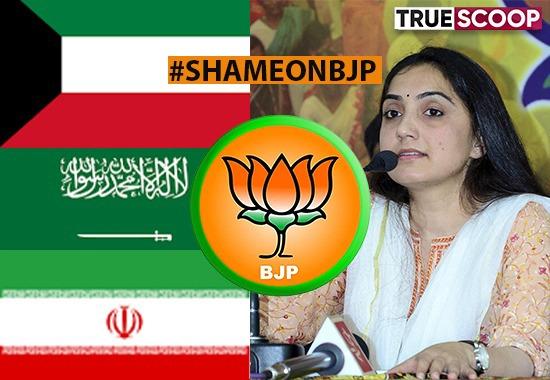 Shame on BJP trends: In the matter of suspending Nupur Sharma and Naveen Jindal for remarks on Prophet Mohammad, now the supporters of BJP and right-wing seem to have opened a front against the party. On Thursday, 'ShameOnBJP' continued to trend on Twitter with the hashtag. Some eminent people have also tweeted in support of Nupur Sharma, but have not used the hashtag 'ShameOnBJP'.

Such reactions started when it was decided to suspend BJP spokesperson Nupur Sharma. She commented on Prophet Mohammad. The Gulf countries officially took strong objection to her remarks.
So far 18 OIC countries have registered their strong protest regarding this. Even after taking action against Nupur Sharma and Naveen Jindal on behalf of the BJP, the protest does not seem to be diminishing. It is being said that in response to the government's decision to call them 'fringe elements' i.e. marginalized people and to suspend both, BJP has accepted their statements as wrong.
Why are the supporters of the party incensed at the BJP's action against those who are allegedly speaking hate speech or using objectionable language? Has the ruling party not controlled the troll army? This is the troll army which was once promoted for political gains.
Twitter user Radhakrishna Mishra, who appears to be a BJP supporter, tweeted, "So any Islamist's tweet is enough to oust Nupur Ji from BJP in New India, is this the same BJP we voted for, or is it There is some so-called masterstroke, BJP people, Ek Dil hai kitne Baar todoge.

Some users, however, did not directly target Prime Minister Narendra Modi but tried to project him as a weak leader to favour Uttar Pradesh Chief Minister Yogi Adityanath for the top post. A tweet said, 'Dear Hindus, imagine Yogi Ji as the Prime Minister of India.'
A user named Dr Manoj Dubey has tweeted saying that both Nupur Sharma and Naveen Kumar Jindal are doing a wonderful job and are proud of both. He has written why both were thrown out.
Vivek Agnihotri, the producer of the film The Kashmir Files, did not directly target the BJP, but tweeted, describing Nupur as Durga, "Once again Urban Naxals have won. I stand with Nupur Sharma. It's time for you to change your handle to @NupurSharmaDurga.
BJP leader Kapil Mishra has also not said anything directly about BJP, but he has criticized it indirectly. He tweeted, 'Their countries are Islamic. Talking about the rights of Muslims, openly talking about economic boycott, removal from jobs. In the name of religion. Hindus are second class citizens of this world. Only Hindu religion is such that mocking of which is not a punishment for abuse, but the reward is given.