Published On
Shinzo Abe Funeral: Know why Japanese are protesting against Abe's state-sponsored funeral
The protests are being on for around two months now that have raised problems for the ruling party and especially for PM Fumio Kishida, especially at the moment when Japan is set to host global leaders
Author :
Tushar Singh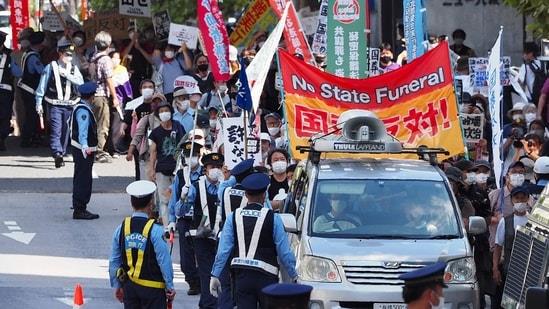 Japan is amidst a boil, over the state-sponsored funeral of the country's longest-serving PM Shinzo Abe, who was assassinated while campaigning for the ruling party in the recently concluded elections.
The reason behind the protest has been the whopping expense at which it is being carried out. As per the reports surfaced through Japanese media houses the estimated worth of which funeral is expected to be taken out is 1.7 Billion Yen or $12 Million.
The protests are being on for around two months now that have raised problems for the ruling party and especially for PM Fumio Kishida, especially at the moment when Japan is observing the touchdown of global leaders to attend Abe's funeral.
The protestors went ahead to the mark and marched ahead of the service of Abe earlier today registering their undeterred cause behind their protest. The protestors believe that at a time when the country is grieving under heavy debt it is extremely inappropriate on their part to sponsor a funeral at such heavy expense.
Montana, USA: In pursuit to hunt wolf, Woman kills & skins Husky dog; says 'Great Feeling'; Watch
Japanese PM Kishida made several attempts to mitigate people's concern time and again since the protest was first lodged. His government is embattling the fight as Japan is observing the record defense spending under his regime.
Moreover, the approval rating of Kishida has nose-dived since he assumed office in recent times. The capital city of Tokyo has remained under maximum security making all forms of provisions of dowsing protests owing to the state funeral.
The incident took a sudden turn towards deterioration last week when a man set himself on fire near the office of the Japanese Prime Minister, where Abe served for a record number of days as Japan's PM.