Published On
SHOCKING: Sidharth Shukla's Fan Reached Partial Coma After His Death, Condition Critical
After learning of Sidharth Shukla's death, a fan has fallen into a partial coma. After having a heart attack, the actor passed away thursday.
Author :
Sheetal J Bhalla
Sidharth Shukla, a jewel of a person, passed away on thursday. Everyone was taken aback when he died. Many individuals still find it hard to believe. Many admirers are in denial that Sidharth Shukla is no longer alive. After having a heart attack, the actor died. According to reports, he took his medications and fell asleep, never to be seen again. According to reports, he died in Shehnaaz Gill's lap. According to sources, Sidharth slept on Shehnaaz's lap for comfort after he complained of being uncomfortable. He never awoke after that. He was transported to the hospital, where he was declared dead. Many people are devastated by the news.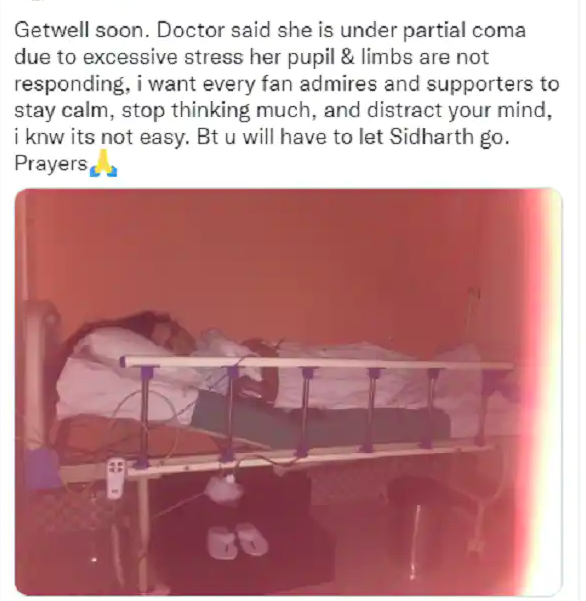 Sidharth Shukla has millions of fans who adore him and will do anything for him. And this news would have crushed them like nothing else could. Dr. Jayesh Thaker, a friend of Sidharth's, said that a follower of SidNaaz was discovered unconscious in the restroom after hearing the news of his death. Jayesh came to Twitter to encourage SidNaaz fans to communicate to their family members instead of being alone. "Guys, talk to your family & friends, dont stay alone, one of the SidNaaz fan is hospitalized last night as found unconscious in washroom... Kindly take care of yourself... Pray for her...!!" He tweeted.

Later, he posted an update, stating that the fan had gone into a partial coma, according to doctors."Getwell soon. Doctor said she is under partial coma due to excessive stress her pupil & limbs are not responding, i want every fan admires and supporters to stay calm, stop thinking much, and distract your mind, i knw its not easy. Bt u will have to let Sidharth go."
This is beyond tragic. We pray that she heals quickly and that God provides her the strength she needs to overcome her sadness. Sidharth Shukla is survived by his mother and his sister

.