Published On
Sunny Leone's bold photo used on Karnataka TET candidate's hall ticket; probe ordered
Karnataka TET Sunny Leone hall ticket alleged photo was shared by Congress social media chairperson BR Naidu on Tuesday
Author :
Ujjwal Samrat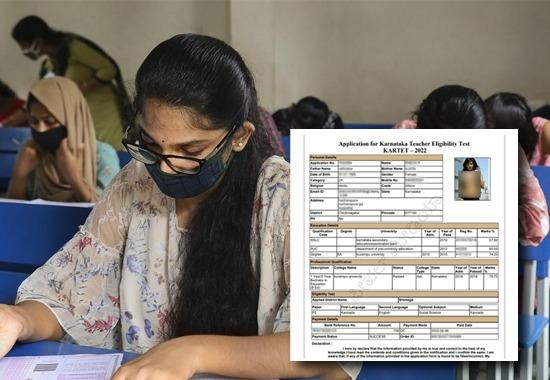 In an absolute shocker, a candidate appearing in Karnataka Teachers Recruitment examination (TET) found herself in an embarrassing situation when former adult movie star and Bollywood actress Sunny Leone's photo was used on her hall ticket. Yes, you heard it right. Instead of the student's photo, the Karnataka TET hall ticket carried Sunny Leone's bold photo. Karnataka TET Sunny Leone hall ticket alleged photo was shared by Congress social media chairperson BR Naidu on Tuesday and ever since then, it went viral.
Talking to his Twitter handle, Karnataka Congress social media head BR Naidu alleged that the state education department had printed the photo of the former adult star Sunny leone on the hall ticket instead of the candidate's photo. Furthermore, Naidu slammed the ruling government saying that nothing else can be expected from the party watching 'adult movies'. For the unversed, BJP is in power in Karnataka and its Chief Minister is Basvaraj Bommai.
Here's Karnataka TET Sunny Leone Admit Card
What is Vestibular Hypofunction? Varun Dhawan shares his health update on this rare disease
ಶಿಕ್ಷಕರ ನೇಮಕಾತಿಯ ಪ್ರವೇಶಾತಿ ಪತ್ರದಲ್ಲಿ ಅಭ್ಯರ್ಥಿಯ ಬದಲು ನೀಲಿಚಿತ್ರ ತಾರೆಯ ಫೋಟೋ ಪ್ರಕಟಿಸಲಾಗಿದೆ.

ಸದನದಲ್ಲಿ ನೀಲಿಚಿತ್ರ ವೀಕ್ಷಿಸುವ ಪಕ್ಷದವರಿಂದ ಇನ್ನೇನು ತಾನೇ ನಿರೀಕ್ಷಿಸಲು ಸಾಧ್ಯ?@BCNagesh_bjp ಅವರೇ, ನೀಲಿಚಿತ್ರ ತಾರೆ ನೋಡುವ ಹಂಬಲವಿದ್ದರೆ ಒಂದು ಫೋಟೋ ನೇತಾಕಿಕೊಳ್ಳಿ, ಅದಕ್ಕೆ ಶಿಕ್ಷಣ ಇಲಾಖೆಯನ್ನು ಉಪಯೋಗಿಸಬೇಡಿ! pic.twitter.com/Czb7W0d1xJ

— B.R.Naidu ಬಿ.ಆರ್.ನಾಯ್ಡು Vasanthnagar (@brnaidu1978) November 8, 2022
Notably, Karnataka's Education Minister BC Nagesh's office issued a statement saying, "Candidate has to upload a photo. The system takes whatever photo they attach to the file. When we asked the candidate if she put Sunny Leone's photo on her admit card, she said her husband's friend uploaded her information." Furthermore, the Karnataka Education Department said that it would file an FIR after investigating the matter.