Published On
Tajinder Bagga arrest: Haryana CM Khattar fires first response; alleges BJP leader was kidnapped
Haryana CM Manohar Lal Khattar has finally spoken about the whole incident and how the arrest of Tajinder Bagga turned into Punjab Police vs Delhi Police. Author :
Malkit Singh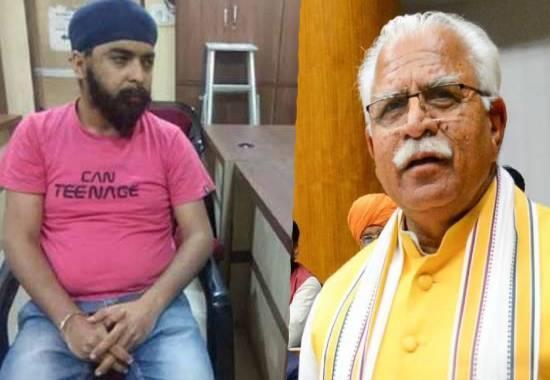 The concept of cooperative federalism went on a toss after the 'Punjab Police vs Delhi Police' scenario was created over BJP Delhi leader
Tajinder Bagga's arrest
. BJP leader Tajinder Pal Singh Bagga on Friday was arrested by Punjab Police from his residence in New Delhi. Punjab Police arrived at Tajinder Bagga's residence at 5 am and arrested him over his alleged threat to Delhi CM Arvind Kejriwal after his controversial statement on the movie The Kashmir Files. Now, Haryana CM Manohar Lal Khattar has finally spoken about the whole incident and how the arrest of Tajinder Bagga turned into Punjab Police vs Delhi Police.
During the press briefing over Tajinder Bagga's arrest row, Haryana CM Khattar explained that the BJP leader's father had filed an FIR of kidnapping of his son to Delhi Police. Thereafter, Delhi Police contacted Haryana Police and informed the same. As a result, Haryana Police came into action and stopped Police Police team who were taking Bagga to Punjab. As Delhi Police had sought help from the Haryana Police therefore Bagga was handed over to the Delhi Police.
"They picked him up (Tajinder Bagga) from his home at 5 am. His father filed FIR (in Delhi) that he has been kidnapped by some people who took him away in a vehicle. Delhi Police informed Haryana Police that people from Punjab picked him up. Haryana Police became alert and stopped them in Kurukshetra, near Pipli. Since we had information from Delhi it was our duty to hand them over to Delhi Police. Amid this, they revealed their identity that they're Punjab Police & are taking him with them. We did our work," said Haryana CM Khattar.
Khattar also responded to Punjab Police's action to approach the court over arrest of Tajinder Bagga. He said, "Punjab Police said that they will approach the court, it is up to them. Ultimately, Haryana Police handed them over to Delhi Police. The procedure wasn't followed. Second, it's a political issue as during polls Bagga had delivered speeches. Speeches normally include political content and blame against each other. If something happens, EC takes cognizance & then-Police looks into it."
"Political issues don't unfold like this. But forcing Punjab Police to pick up a political figure in this manner...there should at least be a little amiability. If enmity b/w political parties rises like this, there'll be problems. This shouldn't have been done," added CM Khattar.
Tajinder Bagga arrest controversy
Tajinder Bagga was arrested over his month-old tweet in wherein he wrote an alleged threatening statement against Delhi Chief Minister Arvind Kejriwal over his views on the film, The Kashmir Files. He has been booked for making provocative statements, promoting religious enmity, and criminal intimidation. The Punjab police informed that they had sent notice to Bagga five times to join the investigation but he ignored it and refused to join.
The Delhi Police informed that they have received a complaint from Tajinder Bagga's father that the standard operating procedure (SOPs) was not followed during the arrest and hence Punjab police should be booked under these charges. Delhi Police reportedly filed an FIR against the Punjab Police under Sections 34, 295, 342, 365, 392 and 452 of the IPC for illegally abducting the BJP leader.
Hours after the jurisdiction clash and after Haryana police intercepted Bagga's convoy, the Delhi police took the custody of the BJP leader and detained the Punjab cops. After Delhi Police took Bagga's custody in Haryana, the Punjab Police approached the Punjab & Haryana High Court against the detention of their personnel in Kurukshetra and called the Haryana Police intervention a violation of the law.
As a result, the Punjab and Haryana High Court asked Delhi and Haryana Police to file an affidavit regarding the detention of Punjab police officers who went to arrest the BJP leader on Friday.