Corona has caused a lot of damage to the film industry. Multiplexes and single screens have been closed for a year. It is still not decided when they will be able to open with 100% capacity. Due to this, many films were released directly on OTT, but there are some big films, which are ready to wait for the opening of theatres for a year.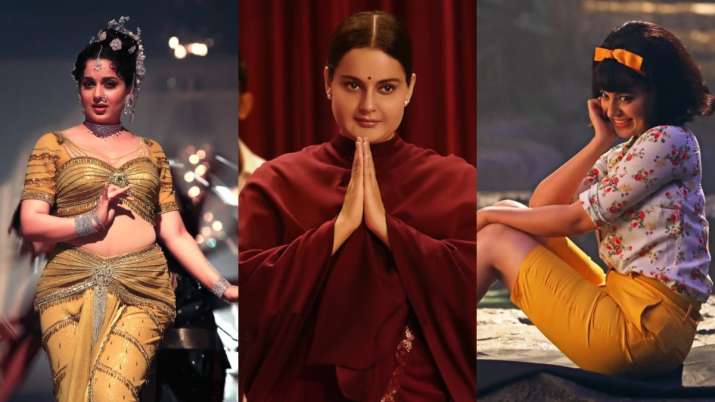 Kangana Ranaut's film Thalaivi
Thalaivi, the biopic of former Tamil Nadu Chief Minister Jayalalithaa, has been waiting for a year to release. Kangana played the role of Jayalalithaa in it. Thalaivi means female leader. It is just a coincidence that Kangana herself has a dream of joining politics from cinema. In this film, she is also getting a chance to become CM.

Kangana is looking for a big hit film from the last 5 years. Film makers are hopeful that due to Jayalalithaa's name in South India and Kangana's acting in North India, the film will go well. The film is made at a cost of 65 crores. Earlier the planning was that if this film is released before the Tamil Nadu assembly elections, it will become a big hit and the political environment will face a big change.

Perhaps Jayalalithaa's party AIADMK will also benefit from the film. The film was to be released on 23 March before the Tamil Nadu elections, the trailer and songs were also released, but due to Corona, the film was postponed.






Film is made only for cinema
The film's producer Vishnuvardhan Induri clearly told that Tamil Nadu politics is nothing to do with this film. We have not made a film for the voters of any party, but for the cine lovers from across India.


Also Read: Naagin 3 fame Pearl V Puri arrested for allegedly raping minor, Case Registered Under POSCO Act
Jayalalithaa's biopic
Induri told that after buying the rights of Thalaivi book, research went on for two years. It was difficult to tell the full story of Jayalalithaa in three hours. So it was decided to make a film till she became the Chief Minister in 1991.
What about the controversies related to Jayalalithaa?
The biggest problem in a biopic made in India is that only the hero and heroine are glorified in it. Jayalalithaa got a lot of respect in Tamil Nadu, but people in other states know her only by things like income tax raids, her collection of sarees and shoes.
On this question, producer Induri only told that how a woman comes into politics, makes her place, there is a whole film on this. We believe that people from all over India will come to the theater to see the dramatic aspects of Jayalalithaa's life with Kangana's strong acting.
After talking to people close to Jayalalithaa and researching the newspapers, we felt that this film should be made as a story of a woman making her place in politics after lot of struggle.
The Modi-Thackeray biopic didn't work
Jayalalithaa was very popular in the South, but the popularity of the leader does not guarantee the film's success. The biopics of Narendra Modi and Balasaheb Thackeray, which had come before this, did not even work, while the popularity of both the leaders has been very high.
How Kangna Became Jayalalithaa
Tamil film trade analyst N. Ramesh Bala says that it is a commercial film. People recognises Kangana and likes her acting.And we were looking for such a national face. That's why Kangana got a chance.
The delay will increase competition
Producer Induri told that this film will not come on OTT. The film will be released in theaters simultaneously in all three languages Hindi, Tamil and Telugu. Analyst Ramesh Bala told that stars like Tamil film Vijay Sethupathi (Master Film fame), Dhanush or Ajith Kumar are considered to be the guarantee of the film's success. In such a situation, it is difficult to say the future of this film.
Whenever theatres open in the country, there will be a line-up of films like Sooryavanshi, 83, Chehre, Bellbottom, Bunty and Babli 2. So, It may be difficult for Thalaivi to garner an audience among them but surely we will win hearts of the people.