Published On
Tragic accident claims lives of 3 friends in Jalandhar; one seriously injured
Amritsar-Pathankot National Highway witnesses devastating collision between trolley and Swift Desire car Author :
Malkit Singh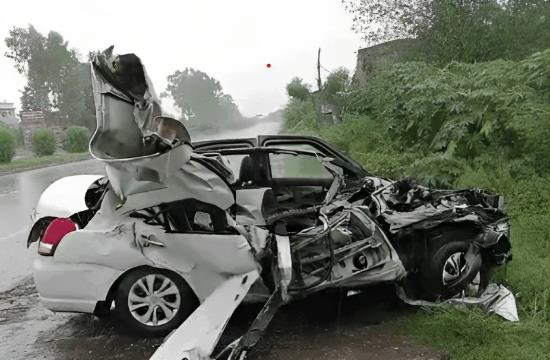 Naushehra Majha Singh, Punjab: A horrifying road accident in the vicinity of Kasba Naushehra Majha Singh, near Batala, Punjab, has resulted in the untimely demise of three friends from Jalandhar.
The accident occurred on the Amritsar-Pathankot National Highway, involving a collision between a trolley and a Swift Desire car. Four individuals were inside the car at the time of the incident, with one person sustaining critical injuries.
The ill-fated car involved in the accident was registered in Jalandhar. The impact of the collision was so severe that the car suffered extensive damage.
The injured individual has been rushed to the hospital for medical treatment. However, the identities of the deceased victims remain unknown, with only confirmation that all three were residents of Jalandhar.
Heroic rescue efforts
The accident was of such a catastrophic nature that the Swift Desire car was mangled, making it challenging to extricate the occupants.
Also Read: Elvish Yadav vs Arjun Bijlani: Why Bigg Boss OTT 2 winner is engaged in a war of words with the TV actor?
Local onlookers immediately rallied to help, successfully cutting the car open and rescuing the youths. The tragic loss of these three young lives has cast a pall of grief over their families and the local community.
Investigation underway
As news of the accident spread, local law enforcement swiftly arrived at the scene to initiate an investigation into the incident. Authorities are yet to identify the deceased individuals. The bodies have been placed at Gurudaspur Civil Hospital for post-mortem examinations.
Further details about the accident and its causes are expected to emerge as the investigation unfolds.
This tragic accident serves as a somber reminder of the importance of road safety and the need for caution while driving on highways.
The local community mourns the loss of these young lives and extends condolences to their grieving families.