Published On
Turkey: Egyptian cargo ship 'Sea Eagle' sinks in sea while unloading containers at Iskenderun Port; Video Viral
The Iskenderun Port ship sink viral video has raised many eyebrows around the world and the netizens are wondering how the huge vessel sank into the sea
Author :
Ujjwal Samrat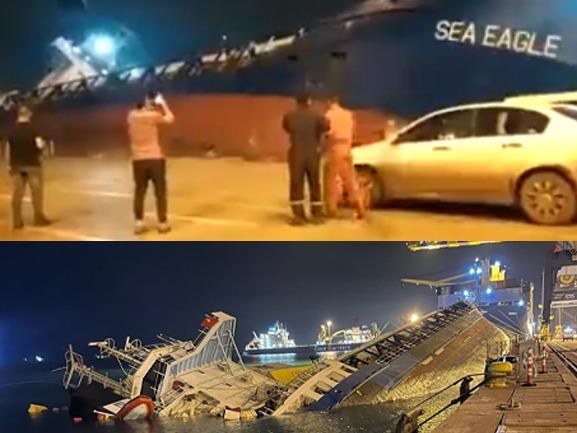 An Egyptian cargo ship on September 17 docked at Turkey's Iskenderun Port lost its stability and sank in the sea. The Egyptian cargo ship sank while it was unloading containers at the Iskenderun Port in Turkey. Now, multiple Turkey cargo ship sinking video has been doing rounds on social media. In fact, the Iskenderun Port ship sink viral video has raised many eyebrows around the world and the netizens are wondering how the huge vessel sank into the sea. Interestingly, a video is circulating on Twitter showing shows the moment the vessel named Sea Eagle turns to the side and sank.
In the Egypt cargo ship sinking viral video, it can be seen the working offloading the containers from the vessel. The ship can be see docked at the Iskenderun Port and heavy containers are being offloaded from it. While everything was going fine, suddenly Sea Eagle started shaking and ultimately sank into the sea after loosing its balance. As per Turkish media reports, the 3120 DWT cargo ship, Sea Eagle was sailing under the Flag Of Togo. The containers which were present on the ship, also sank with the ship.
Watch Turkey cargo ship viral video
United States: 2 Pitbulls attack an 89-year-old woman and her grandson, details inside
The sinking moment of the Sea Eagle in the port of Iskenderun, Turkey... Sept 18, 2022.

It completely sank right after this.

🔊sound🚨 pic.twitter.com/zixdSpa1xr

— Wall Street Silver (@WallStreetSilv) September 20, 2022
It is pertinent to mention here that no crew members were harmed as they were alerted when the ship started to destabilise. After the video went viral, and people started to wonder why the ship sank, then Turkey's Ministry of Transport and Infrastructure issued its official statement on its Twitter handle. In its official statement, Turkey's Ministry of Transport and Infrastructure stated that 24 containers were lost from the Togo-flagged vessel and a minor oil leak was also detected. Later, Turkey's government in its statement further stated that Sea Eagle accident cause is being investigated by the port authorities in Turkey. Reportedly, the cargo ship was suffering from stability issues and efforts to balance it did not yield results. Meanwhile, the operation to offload the ship's fuel and retrieve the container is currently going on.