Ujjain Horror: 12-year-old girl sought help door to door after being raped, turned away by locals; 4 arrested
A 12-year-old semi-naked girl knocked on several doors whose legs were bleeding after being raped but was turned away by locals earlier this week.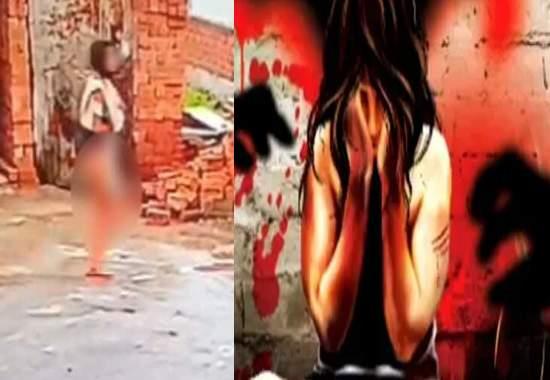 -

While the images of Manipuri women paraded naked by a mob still haunt the people of India, an incident in Ujjain, Madhya Pradesh has sparked an outrage in the nation. A 12-year-old semi-naked girl knocked on several doors whose legs were bleeding after being raped earlier this week. However, the shameless locals turned her away despite seeing her in deadly pain. Ujjain horror CCTV footage depicts a heart-wrenching incident and now a massive uproar has erupted not only on social media but also in the political fraternity. The peak of shamelessness was witnessed when the Ujjain CCTV video showcased a man shooing her away as she approached him for help. The visuals were captured by a CCTV camera on Badnagar road, about 15 km from Ujjain in Madhya Pradesh.

The minor was wandering the streets in a rag barely covering her and eventually reached an ashram. A priest there suspected sexual violence, covered her with a towel quickly, and rushed her to the district hospital. The medical examination confirmed rape. As the injuries were serious, the girl was rushed to Indore. When she needed blood, police personnel reportedly came forward. Her condition is now learned to be stable. Notably, when a senior police officer asked the girl her name and her address, she could not answer coherently.

Acharya Rahul Sharma, a priest in Ujjain, was the only person who helped her. While talking to the media, Acharya Rahul Sharma informed, " was at the gate of my ashram leaving for a meeting at around 9:30 am when I saw a girl in pain, trying to cover her private parts with whatever she could from an almost torn rag walking towards the ashram. For a second, I couldn't understand, then I stepped out and hurriedly removed the ang vastra (the top part of a two-part dress worn by priests) that I was wearing on my upper body and gave it to her."

As per the Police, the minor was allegedly raped and thrown near Dandi Ashram on Badnagar Road. Reportedly, Police have registered a case of rape against unidentified accused. The stringent Protection of Children from Sexual Offences (POCSO) Act has also been invoked.

Apart from this, state Home Minister Narottam Mishra was quoted saying that a suspect in the crime was detained and a special investigation team (SIT) has been formed for a thorough investigation. According to Superintendent of police Sachin Sharma, the suspect is a 40-year-old auto-rickshaw driver from Ujjain. In the CCTV footage, the auto driver was seen interacting with the girl. When police seized his auto, blood stains were found on the passenger seat.

Apart from this, a separate report suggests that apart from the auto driver, four more suspects have been arrested by the Police.

Also Read: Maneka Gandhi accuses ISKCON of cow sales to butchers, sparking controversy

It is pertinent to mention here that Prime Minister Narendra Modi had cautioned Chief Ministers of every state to amp up security against women and girls. While the rape of anyone is a cruel offense, the incident at Ujjain somehow showcase how we as a society are failing.