Published On
UP: Minor school girl hides in drainpipe for 9 hours after family finds out 'Elopement' plan; Watch Video
The girl was in a relationship with a man and she was allegedly brainwashed by her lover to elope with him. Author :
Ujjwal Samrat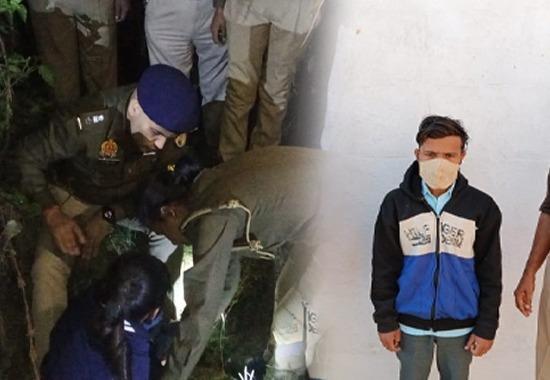 A minor schoolgirl studying in Class 9 went missing in Uttar Pradesh's Baghpat district on 23 November 2022 after she left for school. The missing of the Baghpat minor girl sent shockwaves in the district and the Police soon came into action. Fortunately, the girl was found later in the evening from a drainpipe in a field. Reportedly, the girl was hiding in the drainpipe for 9 hours. Reports suggest that the girl was in a relationship with a man and she was allegedly brainwashed by her lover to elope with him. However, the girl suspected that her parents might know about their plans and therefore she dropped the idea to elope with the boy at the last moment.
Frightened by her parents' anger and scolding, the girl did not return home. Instead, she hid in a drainpipe. Baghpat Superitendent of Police Neeraj Kumar Jadaun was quoted by a news portal saying that the hiding might have proved fatal for the girl if she had stayed for more time. Furthermore, he stated that it could get very cold and there was fear of wild animals roaming in the night. The girl reportedly belongs to the SC community and the boy she planned to elope with is 10 years older than her.
The official press release of the Baghpat Police says that the girl is 15 years old and Singhawali Ahir police station received her missing complaint around 10:30 AM. Teams of five police stations were deployed for her search, besides a dog squad and other units of the police force. The police official in the known development was quoted by another media portal saying that the girl was brainwashed by the man and she was carrying casual clothes in her school bag. She changed into those casual clothes after exiting the school in the morning, however, learnt that her family had come to know about her plan. Scared by this, she did not go to the spot where she was scheduled to meet the man and, instead, went to the field to hide.
Reportedly, the Police arrested the man for kidnapping. Sohail has been booked under IPC section 363 as well as under Section 7/8 of the Protection of Children Against Sexual Offences (POCSO) Act and Section 3(2)5A of the Scheduled Castes (Prevention of Atrocity) Act (FIR number 306/2022 filed at Singhawali Ahir police station).
Kalyan: Leopard enters residential area near Mumbai, injures 3 in attack; Video Viral
Watch Video
This girl, who is just 14 and in Class 9, went missing on 23 Nov after she left for school. Was found late evening from a drainpipe. Turns out one Sohail Ansari brainwashed her into eloping with him. When parents came to know of her plan, she hid herself in field. She is SC Hindu pic.twitter.com/p1OuogUA8B

— Swati Goel Sharma (@swati_gs) November 26, 2022
#baghpatpolice
दि0 23-11-22को सुबह 10ः30बजे थाना सिं0अहीर पुलिस को सूचना प्राप्त हुई कि 15वर्षीय नाबालिग लडकी बिलौचपुरा के स्कूल से सुबह 8ः30बजे से लापता है।सूचना पर पुलिस तत्काल मौके पहुंची तथा सर्च ऑपरेशन मे लापता लडकी को शाम 6ः30बजे जंगल से सकुशल बरामद किया। SP महोदय की बाइट- pic.twitter.com/YShvkDdHt0

— Baghpat Police (@baghpatpolice) November 23, 2022