US school slammed for installing 'prison-like' metal gate to stop students from going to bathroom amid ongoing class
The US school metal gate viral photo is spreading like a wildfire on social media with netizens comparing the school's move to install such a gate to 'prison'.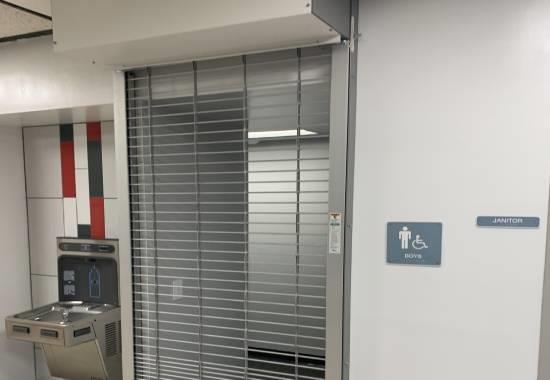 -

In a shocking incident, a school in the United States of America (USA) is being lambasted on social media for installing prison-like gates made of metal to prevent students from going to the bathroom in between classes. US school metal gate has shocked netizens on social media after the picture of it was shared on Reddit. In fact, the US school metal gate viral photo is spreading like a wildfire on social media with netizens comparing the school's move to install such a gate to 'prison'.

A user named Lord-Zippy shared the photo on Reddit on Wednesday and in 24 hours the post has garnered over 106,000 upvotes. Sharing the user wrote, "During the summer, my school installed metal gates over the bathrooms to keep us from going between class." The US School gate viral photo shows a locked gate at the entrance to restrooms signposted as male and accessible toilets. After the US School gate photo went viral, the user then wrote in his clarification, "This is only between classes. It's only down for four minutes. We are allowed to go during class. They installed this because last year kids were destroying the bathrooms. We use an online system called SmartPass which is like an electronic hall pass. They monitor who is in the bathrooms and have records of it all the time."
This school put up metal gates to keep kids from using the bathrooms between periods pic.twitter.com/nrT2rpopD2

— Fifty Shades of Whey (@davenewworld_2) August 31, 2022
"All for those who say it is illegal, I highly doubt it because the school would not have done if it was illegal," wrote the user who shared the viral US metal school gate photo. He further added, "They want to keep us out between periods so that we cannot "destroy anything". Basically people last year took their poop and spreaded it all over the walls. They let us go during class though, which makes no sense because no one is guarding the bathrooms during class."
Democrat Mary Peltola wins special US House election, becomes first Alaskan native in Congress
After the photo went viral, netizens started to wonder why the school have to take a such strict steps. One of the users wrote, "As someone who installs these kind of grills, it is indeed a waste of money. Idk how I'd feel about installing one knowing what they intend to use it for."
Another user wrote, "I wonder if they actually went through the proper building permit process with the city and fire department for this change."
One Reddit user commented simply: "Prison?" Lord-Zippy replied: "Feels like it. They also have teachers guard them for the whole 4 minutes that they are put down."
The user highlighted the illogical of funds by the US Schools. Notably, schools in the United States are underfunded by nearly $150 billion every year, according to a report of the Century Foundation. Nearly, 30 million children are being 'robbed' of the resources they need to succeed in the classroom, the foundation said in a 2020 study.