Published On
Viral Video: Ranbir Kapoor's female fans scream 'I Love You', watch his reaction
The actor traveled to Dubai to compete in the Celebrity Football Cup 2022 against Emirates United at the Shabab Al Ahli Stadium
Author :
Nishtha Jairath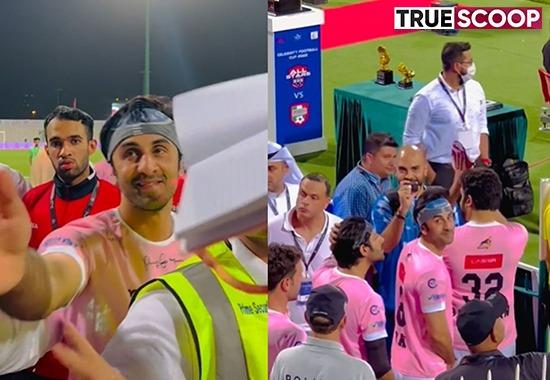 Ranbir Kapoor stole the show at a recent celebrity football tournament in Dubai. Celebrities such as Ranbir Kapoor, Kartik Aaryan, Abhishek Bachchan, and others have traveled to Dubai to compete in the Celebrity Football Cup 2022 against Emirates United at the Shabab Al Ahli Stadium. A fan can be heard screaming 'Ranbir, I love you' in a new video from the match that has gone viral. Our hearts have been won over by the actor's reaction!
Fans shouted and hooted as Ranbir waited in line with teammates Abhishek Bachchan, Kartik Aaryan, and others to enter the field. After a brief pause, a fan said, 'Ranbir, I love you,' prompting him to turn back. He turned around and winked at her, causing the crowd to hoot once again.
Ranbir Kapoor even crossed the line after the match, reaching out to his fans to shake their hands, sign autographs, and take photographs. His move really the audience.
In subsequent tweets, she recalled the meeting, saying, "I am still trying to manage my emotions that I truly met Ranbir Kapoor last night!" I'm beginning to believe that 'Manifesting' is real!
Also Read: 'Illuminati' forthcoming musical web series: Ranveer Singh and Vicky Kaushal to play lead roles
Ranbir recently stated to Bollywood Hungama that his football team, ASFC, is one of the most significant elements of his life "We are overjoyed to be here. This year also marks ASFC's tenth anniversary. This is certainly one of the most important things I've been a part of." The captain of the squad, Abhishek Bachchan, teased him, adding, "Which is very touching considering he just got married."