Sushil Kumar, a two-time Olympian and wrestler, was nabbed by the Delhi Police on Sunday, just days after eluding capture. Sushil Kumar, who was remanded after his arrest, told police that he was not present at the crime site where Sagar Rana, 23, was murdered. The Delhi Police, on the other hand, has recently issued a photo of Sushil Kumar at the crime scene in Chhatrasal Stadium. Sushil Kumar can be plainly seen in the footage supplied by sources among a group of males who were present with him.


A gang of men armed with sticks can be seen in the footage. Sushil Kumar was also seen with a stick in his hand, according to the video. A group of individuals was also spotted surrounding a man who appeared to be laying on the ground. The men in orange and white shirts in the video appear to be pounding the man on the ground. The victim is subsequently beaten and thrashed by the men present at the murder scene with sticks. The Delhi Police had escorted Sushil Kumar to the Chattrasal stadium on Tue
sday to recreate the crime scene. A Delhi court remanded Sushil Kumar and his associate in police custody for six days.
See video here how Olympian wrestler Sushil Kumar is thrashing wrestler Sagar Rana with a stick at Chhatrasal Stadium.
Earlier after a two-week manhunt, the Olympic wrestler was apprehended by Delhi Police on Sunday. Along with the wrestler, the cops also arrested his buddy Ajay Kumar. Following this significant development, Sushil Kumar was remanded in police custody for six days by a Delhi court. Kumar behaved 'like a criminal,' according to the police, since he continually changed his locations and used 14 SIM cards to avoid being tracked by the Delhi Police.
Also Read: Chhatrasal Stadium Murder Case: Delhi Police interrogates gangsters Lawrence Bishnoi, Sampat Nehra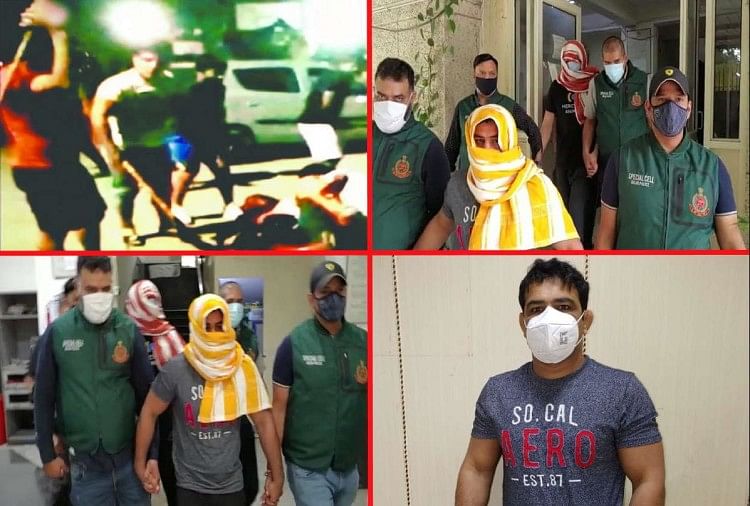 "Sushil and his thugs battered their victims like beasts. Sushil intended to make a name for himself in the neighbourhood by instilling fear. The brutality with which the victims were beaten is appalling "Atul Srivastava, the Additional Public Prosecutor (APP), who was representing the police in court, presented the following statement.

Also Read: French Open 2021: Decision to delay 'Roland Garros' saves 'millions of euros', Jamie Murray criticised
According to sources, a brawl broke out amongst wrestlers at Chhatrasal Stadium on the night of May 4-5, which swiftly escalated after one of the group fired bullets. The injured wrestlers were brought to the Civil Lines Trauma Centre, where one of them, former junior national champion Sagar Rana, died as a result of his injuries.
Prince Dalal, 24, of Jhajjar, Haryana, was detained in the case carrying double-barrel-loaded firearms a few days later. Sonu Mahal, another suspect in the shooting, is said to be a close friend of mobster Kala Jathedi. Sushil Kumar had also been mentioned as a suspect in the case, and authorities had organised multiple squads to track him down. Kumar, on the other hand, denied his involvement, claiming that those engaged were not his wrestlers.