Many well-known people have stepped forward to assist Indians in the aftermath of the COVID-19 disaster. While Bollywood star Sonu Sood has been donating needs on a daily basis, Indian cricket star Sachin Tendulkar has donated one crore to help fund oxygen concentrators.

In these trying times, Indian captain Virat Kohli and his wife Anushka Sharma stepped forward to support a number of citizens by donating donations for COVID-19 relief.

The power couple started a fundraiser to aid individuals who were affected by Covid-19's terrible second wave. Many admirers contributed to the fundraiser in support of Virat and Anushka. Following that, the two rescued a large number of people in need by supplying oxygen concentrators, hospital beds, and other supplies.

On Monday, the power couple rescued the life of a young boy named Ayaansh Gupta, who was suffering from a rare genetic disease called spinal muscular atrophy. To beat the ailment, he needed the world's most costly medicine, Zolgensma, which costs INR 16 crore.

Aayansh's parents started the 'AyaanshFightsSMA' Twitter account to gather money for their son's therapy. They announced that Ayaansh has received the necessary medical supplies due to Kohli and Anushka.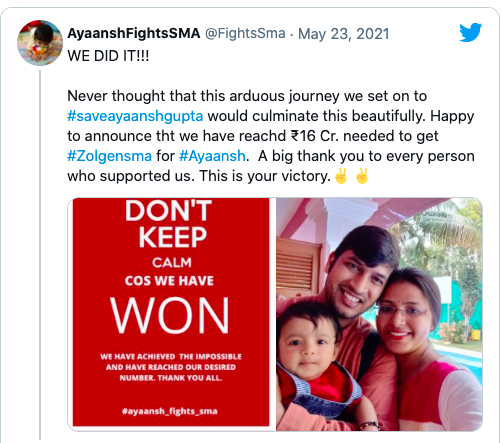 The account tweeted, "WE DID IT...Never thought that this arduous journey we set on to #saveayaanshgupta would culminate this beautifully. Happy to announce tht we have reachd ₹16 Cr. needed to get #Zolgensma for #Ayaansh. A big thank you to every person who supported us. This is your victory,"





Another tweeted, "@imVkohli & @AnushkaSharma – we always loved you as fans. But what you have done for Ayaansh and this campaign is beyond what we expected. Thanks for your generosity. You helped us win this match of life with a six! Will always be indebted for your help to #saveayaanshgupta".




Also Read: Shah Rukh Khan's daughter gets a marriage proposal by a man; says he earns a lakh

Meanwhile, Virat Kohli is in isolation in Mumbai with his Indian teammates. The national squad will head to England on June 2 to compete in the ICC World Test Championship final against New Zealand, which begins on June 18. India would also be subjected to a 14-day quarantine requirement after they arrive in England. As a result, they won't have much time to settle in.