Published On
Volcano Popocatepetl erupts over Central Mexico, red alert issued for 30 lakh people; Watch Video
Popocatépet volcano eruption resulted in multiple flights cancellation and delays in Mexico and now multiple videos are also going viral on social media Author :
Malkit Singh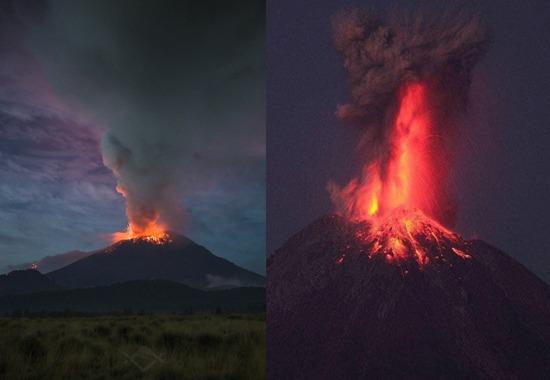 In a major development, a red alert has been issued in Mexico after Volcano named Popocatépet erupted sending ash and smog in the air on Monday. Popocatépet volcano eruption resulted in multiple flights cancellation and delays. As per Mexican media reports, AeroMexico, the country's national airline, blamed the 17,887-foot volcano's smoke outbursts along with ashes for affecting more than 100 of its flights across that nation.Mexico's local administration has also ordered to close schools and public parks in order to avoid any untoward incident due to Mexico's volcanic eruption. As per reports, about 25 lakh people live within 60 miles of the volcano. Mexico's National Civil Protection Coordination (CNPC) issued a Yellow Phase 3 alert on Sunday. After this, about 30 lakh people living in the villages around the volcano were asked to prepare to evacuate the area. Along with this, they have also been advised not to come out of their houses. CNPC has warned of rapid ash spread in the vicinity of the volcano.
Now, Mexico's volcano eruption video is doing rounds on social media. The video shows Popocatepet spewing ashes into the air and a massive smog mountain covering the sky of Central Mexico. Mexico volcanic eruption's increased activity also temporarily shut down Mexico City's two main airports.
Watch Video
En Puebla están más cerca de ver a Valentín Elizalde que a Luis Miguel.🌋 #Popocatepetl pic.twitter.com/pdIzb5f6vc

— Javadd García (@Metanfetaminado) May 22, 2023
Mexico's Popocatepetl volcano has sent lava and volcanic gases into the air in a series of explosions.

The National Center for Prevention of Disasters registered eight moderate and five minor eruptions on Monday pic.twitter.com/I4tS2dZvXg

— RT (@RT_com) May 17, 2023
View from the cabin of the ongoing eruption of the Popocatepetl volcano in Mexico pic.twitter.com/HqNB82UXhR

— Animal World (@dragon_of_time_) May 23, 2023
It is pertinent to mention here that on Sunday, Italy witnessed a massive volcanic eruption. Mount Etna, Europe's most active volcano, erupted on Sunday, causing ash to rain down on Catania, the largest city in eastern Sicily. The eruption resulted in the temporary suspension of flights at Catania airport. As per reports, the eruption was observed by Italy's National Institute of Geophysics and Volcanology (INGV), which closely monitors Mount Etna. However, the view was obstructed by cloud cover on a rainy day, making it difficult to witness the usual spectacular display of flaming lava. Ashfall was reported in Catania and at least one town on the slopes of Mount Etna, but no injuries were reported. The eruption also led to the suspension of flight operations at Catania airport due to the presence of ash.
Mount Etna Volcano Erupts, Rains Ash on Catania, Forces Flight Suspension at Local Airport