What is Bubble Tea? Google celebrates the anniversary of this hit beverage's emoji with an interactive Doodle today
Bubble tea is also known as Boba tea or pearl milk tea and happens to be one of the most sought drinks globally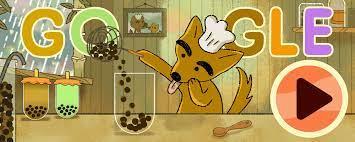 -

Google is celebrating the global hit beverage with an interactive Doodle today. Many of you must have been wondering what is it and why is it our Doodle today. Well, answers to all your queries are inscribed within.

What is Bubble Tea?

'Bubble Tea' happens to be a popular Taiwanese drink and the reason for its featuring on today's Doodle is to mark the anniversary of its introduction as the emoji on this day back in 2020.

Bubble tea is also known as Boba tea and pearl milk tea, the history of its origin dates back to the 17th century when it started as a local treat in Taiwan, however, is a global hit today.

Google went on to explain its origin, at present it is among the most sought-after drinks because of its new flavours, additions, and mixtures with endless combinations.

Valentine's Week 2023 Calendar: From rose day to kiss day, know which day falls on which date

Furthermore, in its explainer, the doodle details read, "Bubble tea has its roots in traditional Taiwanese tea culture which dates back as early as the 17th century. However, it wasn't until the 1980s that bubble tea as we know it today was invented. As waves of Taiwanese immigrants over the past few decades brought this drink overseas, innovation on the original bubble tea continues." Moreover, the bubbles contained inside the boba tea are chewy gelatinous candies made of tapioca balls or fruit jelly.

This interactive Doodle has been designed by Google's Sophie Diao and Celine You features Taiwan's indigenous Formosan Mountain Dog and a crew of familiar doodle characters. This doodle is contained in a form of a game that allows the users to make bubble tea by themselves using the ingredients.

Google said, "Many traditional Asian tea rooms have also jumped on the bandwagon to give the drink their own twist including countries such as Singapore, Japan, South Korea, etc."

For those who don't know, Google Doodles is the major temporary altercation of Google's logo's home pages. It often commemorates 'major' holidays, festivals, cuisines, and the lives of famous artists, pioneers, and scientists.