Published On
What is NyQuil Chicken TikTok trend? US FDA warns Americans cooking rooster in cough syrup
USA's Food and Drug Administration recently published a report on a TikTok challenge named NyQuil chicken or 'Sleepy Chicken' and forbids people to participate
Author :
Ujjwal Samrat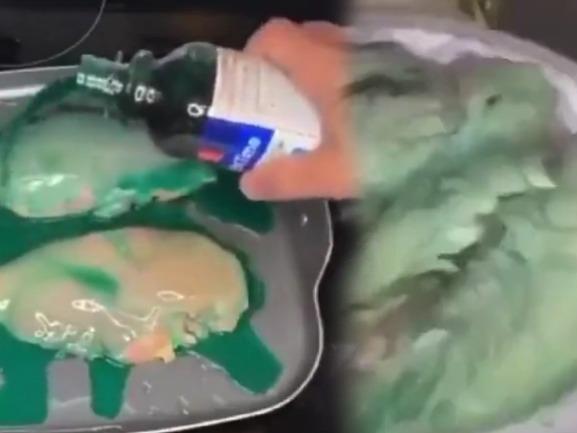 In the age of social media, people around the globe take part in whatever challenges are thrown at them. While some social media challenges amaze people around the world, a few turns nasty and deadly for life. USA's Food and Drug Administration recently published a report on a TikTok challenge named NyQuil chicken or 'Sleepy Chicken' and forbids people to participate as it can be deadly for their health. NyQuil chicken TikTok trend although was much hyped last, it surfaced again after USA's FDA published a report calling it a 'recipe of danger'. FDA published a report on 'social media challenges', refering to a video posted at least a year ago in which a TikTok user fries two chicken breasts in the cold and flu medicine. Now, those wondering what is NyQuil chicken or what is NyQuil chicken TikTok trend or Sleepy Chicken Tiktok trend can read further-
What is NyQuil chicken TikTok trend?
For the unversed, NyQuil is a cold and flu medicine created by Vicks. Vicks NyQuil Cough, Cold & Flu medicine helps to get relief from nighttime symptoms including headache, fever, body aches, runny nose, sore throat, and more. Last year, a trend of let's say a TikTok challenge went viral around the world when a man filmed himself preparing a bizarre dish by marinating chicken breasts with NyQuil counter cough syrups. Although the video was taken down later, the NyQuil Chicken TikTok challenge video had gone viral. After FDA's warning, the NyQuil Chicken TikTok trend video has gone viral yet again. In the viral NyQuil Chicken TikTok video, it can be seen a man cooking chicken breast in NyQuil cold syrup. In the video, it can be seen the chicken which is being cooked on a pan turns blue in colour like a 'venom'. The man says in the video that they have to make sure that they keep constantly flipping the chicken. However, what caught everyone's attention was when the man said that the vape of the chicken cooking in NyQuil will make you 'feel sleepy', hence the challenge was called the 'Sleepy Chicken' TikTok trend.
Watch NyQuil Chicken TikTok Trend Viral Video
Wichita, Kansas: Woman hurls homophobic slur after allegedly being caught stealing car wash; Video Viralpic.twitter.com/ZHHJkYAcisSeptember 20, 2022
The FDA has issued a warning about another dangerous social media trend involving cough medicine and chicken. A recent video challenge encourages young people to cook chicken in NyQuil pic.twitter.com/ZHHJkYAcis

— No Jumper (@nojumper) September 20, 2022
FDA's warning on NyQuil chicken TikTok trend
USA's Food and Drug Administration has issued an update advising consumers that cooking chicken in NyQuil is dangerous. "The challenge sounds silly and unappetizing — and it is. But it could also be very unsafe. Boiling a medication can make it much more concentrated and change its properties in other ways," the FDA said. The FDA said that even if people do not eat the chicken, cooking it in the over-the-counter medicine could cause them to inhale high levels of the drug's vapors. "It could also hurt your lungs. Put simply: Someone could take a dangerously high amount of the cough and cold medicine without even realizing it," the FDA said as reported by US media. The US FDA further said, "These video challenges, which often target youths, can harm people — and even cause death."