What's the Inside story of Gangster Sukha Duneke? Read here
Canada's Dark encounter: The brutal murder of Indian Gangster Sukha Duneke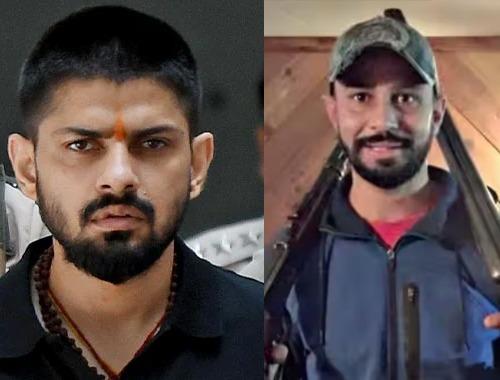 -

In a shocking turn of events, Indian gangster Sukhdul Singh, also known as Sukha Duneke, was fatally shot nine times in the head at his residence in Canada on September 20 at 9:30 AM local time.

Fleeing to Canada: A daring escape

Back in 2017, Sukha Duneke managed to secure a Canadian passport and police clearance certificate using fraudulent documents, despite being embroiled in seven criminal cases in India. His audacious act allowed him to obtain a visa for Canada, where he eventually found refuge.

A Gangster's dark legacy

Sukha Duneke, closely associated with the Khalistani extremist movement, operated from Canada, orchestrating violent activities in India through his sprawling network. He was a key figure in numerous criminal incidents and had a notorious reputation for his involvement in various illegal activities.

The Gruesome murder: Nine bullets, one target

On the fateful day of his murder, Sukha Duneke was at his residence, flat number 203, in Corner House on Hamilton Drive Road, Winnipeg, Canada. Intruders broke into his home at 9:30 AM local time and unleashed a hail of bullets, firing nine fatal shots into his head, leaving behind a gruesome crime scene.

Escape of the assassins

After committing the murder, the assailants made a swift escape, leaving a trail of bloodshed behind. The crime scene was a horrifying sight, with the room soaked in blood and Sukha Duneke's lifeless body amidst the chaos.

Family ties across borders

An interesting twist in this tale is that Sukha Duneke's mother and sister currently reside in Canada, while his uncle lives in the Moga district of Punjab, India. This raises questions about the international reach and influence of organized crime networks.

A murder with Global implications

Sukha Duneke's murder in Canada comes at a time when tensions have been escalating between India and Canada, primarily due to the assassination of another prominent figure, Hardeep Singh Nijjar. Justin Trudeau, Canada's Prime Minister, recently accused Indian agents of involvement in Nijjar's killing, straining diplomatic relations.

Lawrence Bishnoi Gang claims responsibility

Significantly, the Lawrence Bishnoi gang has claimed responsibility for Sukha's murder. In a chilling Facebook post, they took credit for eliminating him and issued a warning to other gangsters, implying that they cannot escape their past crimes.

Parallel to Hardeep Singh Nijjar's murder

Hardeep Singh Nijjar, a prominent figure in the Khalistani movement, was assassinated before Sukha's incident. Nijjar was shot dead by two masked gunmen near a Gurdwara's parking area.

His murder led to protests against India in various places, including Canada, London, and the United States, where Khalistani supporters accused India of being responsible for his killing.

Canada's role as a safe heaven

Canada is increasingly viewed as a safe haven for individuals associated with anti-India activities, including Khalistani terrorists and gangsters on India's most-wanted list.

The assassination of Punjabi singer Sidhu Moosewala in Canada last year highlighted the Canadian connection to such incidents. The mastermind behind Sidhu's murder, gangster Goldy Brar, was believed to be operating from Canada.

Also Read: Flipkart Big Billion Days Sale: Up to 80% Off on latest Electronics and more

India's list of Most-Wanted criminals

Recently, India's list of most-wanted criminals featured the names of nine Khalistani terrorists and notorious gangsters. Sukhda's name topped this list, alongside others:

• Sukhdool Singh, aka Sukha

• Gurpinder Singh, aka Baba Dalla

• Satveer Singh, aka Sam

• Snowar Dhillon

• Lakbir Singh, aka Landa

• Arshdeep Singh, aka Arsh Dala

• Charanjit Singh, aka Rinku Bihla

• Ramandeep Singh, aka Raman Jaj

• Gagandeep Singh, aka Gagana Hathur

These individuals actively operate against India's interests from within Canada. Four of them have red-card notices issued against them by Indian authorities.

Taking action against them is challenging, as Indian security agencies have repeatedly provided evidence of their presence in Canada, but Canadian authorities have not taken substantial action.

The murder of Nijjar on June 18

The shocking murder of Hardeep Singh Nijjar took place on June 18, 2023, in the parking area of a gurdwara in Surrey, Canada. Nijjar was assassinated by unidentified gunmen who had positioned themselves at the location. Before anyone could comprehend what was happening, the shooters opened fire on Nijjar and fled the scene, leaving him lifeless. Hardeep Singh Nijjar had been living under allegations of involvement in various crimes in India.

Canada's response and Justin Trudeau's statement

Following Nijjar's murder, the Canadian government, and especially Prime Minister Justin Trudeau, made statements that caused a significant international uproar. Trudeau's statement implied, without evidence, a connection between Nijjar's death and India.

Trudeau stated, "Canadian security agencies are actively investigating the allegations of links between the Government of India and Canadian citizen Hardeep Singh Nijjar's death. Canada will not tolerate the involvement of a foreign government in the murder of a Canadian citizen on Canadian soil. It is an absolute violation of our sovereignty."

India's counter-response

In response to these allegations, India has asked a senior Canadian politician to leave India within five days. India's Foreign Minister, S. Jaishankar, firmly refuted Canada's accusations and took this retaliatory action.

Sikh population in Canada

Canada boasts a significant Sikh population, with around 7 lakh Sikhs residing in the country. Many of them live in places like Greater Toronto, Vancouver, Edmonton, British Columbia, and Calgary.

Among these Sikhs, some are supporters of the Khalistani movement, and their votes often become a focal point for politicians like Trudeau.

Conclusion

This shocking incident has sent shockwaves through the underworld and highlights the global reach of organized crime. As investigations continue, the world watches closely to see how this dark saga unfolds.