Flipkart Big Billion Days Sale: Up to 80% Off on latest Electronics and more
Flipkart's Big Billion Days Sale page now live with exciting discounts.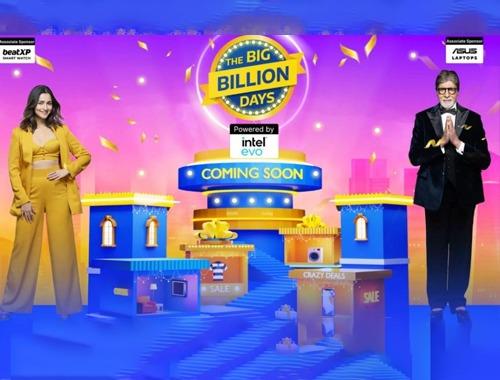 -

Flipkart's Big Billion Days Sale: Incredible offers await

Flipkart is gearing up for a massive pre-Diwali sale known as the Flipkart Big Billion Days, and the sale page is now live on Flipkart's platform. This sale promises fantastic discounts, offers, and deals across a wide range of products.

From iPhones to Android: Incredible offers await

During this sale, customers can expect to find incredible deals on both iPhones and various Android smartphones. Additionally, users can take advantage of bank offers to maximize their savings.

Sale start date: Stay tuned!

While the sale page is live on Flipkart, an official start date is yet to be announced. The teaser simply states "Coming Soon." According to media reports, the sale is expected to kick off in early October.

Save more than half on your purchases

Flipkart's Big Billion Days Sale boasts discounts of up to 80%. These discounts will be available on electronics and accessories, offering customers substantial savings.

From Samsung to iPhone: A stellar lineup

The Big Billion Days Sale page prominently features mobile phones at the top, labeled as "Lowest Prices of the Year." Samsung, iPhone, Realme, and Poco handsets are all listed on this poster.

Also Read: Justin Trudeau's wealth and salary: How rich is Canada's Prime minister?

TVs at 80% Discount

Flipkart's sale page also showcases televisions and appliances, including TVs, washing machines, and air conditioners, with discounts of up to 80%.

Great deals on Air Conditioners too

The sale features air conditioners at attractive discounts, making it the perfect opportunity to purchase cooling appliances at lower prices, especially with the off-season approaching.

Discounts across various categories

Apart from electronics, the Big Billion Days Sale will offer discounts across various categories, including home appliances, fashion, and beauty products.

Stay tuned for more deals

The Flipkart sale is just around the corner, with more deals expected to be revealed in the coming days. For example, deals on Apple's iPhones will be unveiled on October 1st, while Samsung's handsets will see discounts starting on October 3rd.

Stay updated with Flipkart's Big Billion Days Sale to make the most of these exciting offers and discounts. Don't miss out on this opportunity to save big on your favorite products!