Published On
Who is Amit Lodha? The true story behind Netflix's Khakee: The Bihar Chapter
Khakee: The Bihar Chapter apparently portrays IPS Amit Lodha's hunt on the notorious Mahto gang Author :
Ujjwal Samrat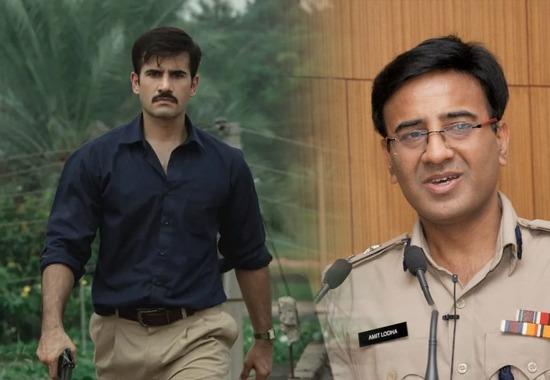 Khakee: The Bihar Chapter was finally released on OTT giant Netflix on November 25, 2022. Created by film-maker Neeraj Pandey, Khakee: The Bihar Chapter star cast includes Karan Tacker, Ashutosh Rana, Nikita Dutta, Avinash Tiwary, Shraddha Das, Abhimanyu Singh, Ravi Kishan, Anup Soni, Aishwarya Sushmita and Vinay Pathak in pivotal roles. Khakee: The Bihar Chapter is Neeraj Pandey's debut web series for Netflix and the crime-thriller has started to create buzz among fans. For those who are unaware, the Special Ops web series was created by Neeraj Pandey and he has also made movies like MS Dhoni: The Untold Story, Baby, Special 26, A Wednesday, and more. Khakee: The Bihar Chapter is a true story based on the book written by IPS Officer Amit Lodha (now IG). The 7-episodes web series is a treat for fans who like to enjoy classic Police-Gangster rivalry. Now, the question arises who is IPS Amit Lodha and how did he catch Bihar's most wanted gangster?
Amit Lodha, a 1988 batch IPS officer, is an officer of the Indian Police Service, who has caught many notorious criminals through a brilliant strategy. Amit Lodha, who is called 'Super Cop' of Bihar, caught the dangerous criminal Vijay Samrat of district Sheikhpura after hard work, after which he was awarded the Gallantry Award. Amit Lodha is not only a great police officer but also a good writer and he proved his art with his first book 'Bihar Diary'. Furthermore, Amit Lodha had cracked the IIT exam, but he later decided to join the Administrative Services. IPS Amit Lodha has given maximum service in Bihar Police Service. He has also been the DG of BSF in Jaisalmer.
However, Khakee: The Bihar Chapter apparently portrays IPS Amit Lodha's hunt on the notorious Mahto gang. Notably, Lodha became a household name with the arrest of Ashok and Pintu Mahto. Pintu was wanted in 30 cases of murder and kidnapping and also had a hand in the infamous Nawada jailbreak of 2002. He and his accomplices killed two policemen while escaping. And then they killed 15 people in a small village in Sheikhpura in 2006. Nitish Kumar had been elected chief minister a little over a year before the incident. Under his government, Lodha was transferred from Nalanda to Sheikhpura, and as its new Superintendent of Police, he was tasked with ending the Mahto gang's reign of terror.
It is pertinent to mention here that Bollywood actor Karan Tacker portrays the character of IPS Amit Lodha and Avinash Tiwary reportedly plays the character of Chandan Mahto (Pintu Mahto in real life). Amit Lodha was quoted by a newswire in which he said, "There was a war-like atmosphere in Sheikhpura. They had killed a sitting MLA and MP and a block development officer..To nab Ashok Mahto, I had to think like a criminal. What was he thinking? What would his next move be? I read his cases and studied how he committed crime. And on 13 August, we arrested him."
Mahto gang terror in Bihar
The Ashok Mahto gang consisted of gangsters such as Pintu Mahto, who was charged with nearly thirty murders and kidnappings, including the murder of three police officers and Congress politician Rajo Singh. Pintu Mahto was responsible for the Ashok Mahto gang in Warisaliganj and Sheikhpura, Nawada district. The Mahto gang also included Sharda Yadav, who was convicted of the massacre of 11 upper-caste people at the village Apshar, and of looting and abduction. Reportedly, Yadav was arrested with nine other aides in 2003. Police also got success in arresting Bacchu Mahto, the sharpshooter of Mahto gang. Mahto gang specially Pintu enjoyed considerable support from the backward communities and his public humiliation prompted questions such as, 'Can the police humiliate an upper-caste gangster in a similar manner?" After his attendance in the court, Superintendent of Police (then) Amit Lodha said Mahto had admitted his involvement in the murder of Rajo Singh.
Who was Chandan Mahto? The true story behind Netflix's Khakee: The Bihar Chapter