Who is R'Bonney Gabriel? Houston-based model creates history at Miss Universe 2022
R'Bonney Gabriel scripted history on Sunday when she won the Miss Universe 2022 crown defeating beauty pageants from more than 80 countries.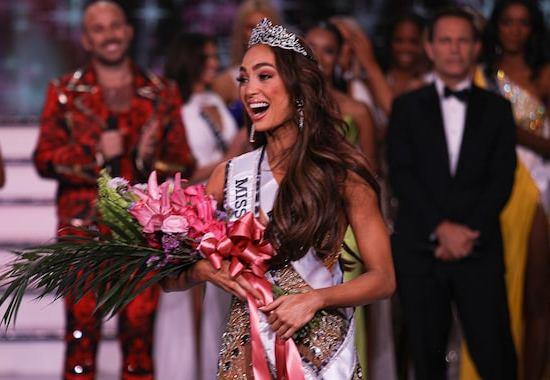 -

Making the United States of America proud, R'Bonney Gabriel scripted history on Sunday when she won the Miss Universe 2022 crown defeating beauty pageants from more than 80 countries. Miss Universe 2021 Harnaaz Sandhu of India handed over the crown and following that USA erupted in joy as R'Bonney Gabriel was officially declared as the ultimate winner. R'Bonney Gabriel impressed all in the question-answer round of top 5 when she was asked that what she would change in the competition if she gets the chance. R'Bonney Gabriel answered that she would like to raise the age bar of Miss Universe. Now, people around the world are querying about Miss Universe 2022 winner R'Bonney Gabriel or simply asking who is R'Bonney Gabriel.
Who is R'Bonney Gabriel?
Born on March 20, 1994, R'Bonney Nola Gabriel is a Filipino-American beauty pageant titleholder who was crowned Miss USA 2022. Gabriel represented the United States at Miss Universe 2023. Houston, Texas, U.S. To be precise, R'Bonney Nola Gabriel, popularly known as R. Bonney Gabriel, is a Houston-based Filipino-American who is a professional model and fashion designer. She runs her own label, R'Bonney Nola, which is really popular for its eco-friendly dresses.
Gabriel was born on March 20, 1994 in Houston, Texas, to Remigio Bonzon "R. Bon" Gabriel, a Filipino father, and Dana Walker, an American mother. Her father was born in the Philippines and immigrated from Manila to Washington at 25 years of age. He got his doctorate degree in psychology from the University of Southern California. Her mother is from Beaumont.
USA's R'Bonney Gabriel wins Miss Universe 2022 crown, Venezuela's Amanda Dudamel first runner up
R. Bonney Gabriel completed her graduation from the University of North Texas in 2018. She got her bachelor's degree in fashion and apparel design with a minor in fibers. It is because of this study that she works as an eco-friendly designer now, and she has made a name for herself in the field. Gabriel is also associated with the Magpies & Peacocks, through which she runs her sewing classes.
Miss Universe 2022/2023
Miss Universe 2023 held in New Orleans and over 80 delegates from across the globe will be competing for the crown at the Ernest N. Moral Convention Center in the US. Hosts Olivia Culpo and Jeannie Mai Jenkins introduced the night's selection committee, all of whom are women in various industries. The judging panel included Emmy-award-winning journalist and author Myrka Dellanos, sports reporter Emily Austin, Miss Universe 1998 Wendy Fitzwilliam, Quido skincare founder Olivia Quido, Viral media PR founder Mara Martin, Roku head of marketing and merchandising Sweta Patel, Miss Universe 2010 Ximena Navarrete, and hip hop artist Big Freedia.