Published On
Who is Sangeeta Singh? New CBDT Chairperson, with a salary of 2.25 lakh
Sangeeta Singh's additional responsibility will have a variety of tasks, including advising Sitharaman.
Author :
Nishtha Jairath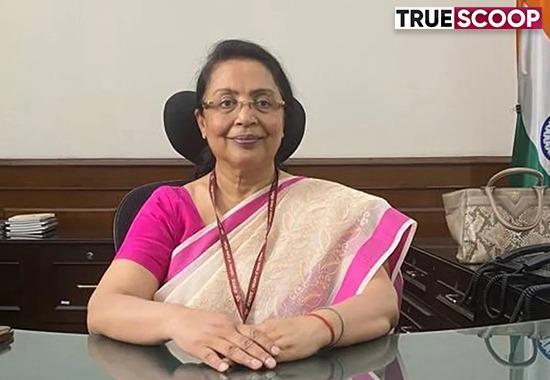 Now, a woman will be leading the additional responsibility of the Central Board of Direct Taxes i.e., CBDT, which is in charge of tax problems. On May 1, Sangeeta Singh, a 1986 batch IRS officer from the Income Tax cadre, was named head of the CBDT. She also has the additional charge of Member (Tax Payer Services) in the CBDT. Please be advised that Sangita Singh was previously employed by the CBDT as a member (Income Tax and Revenue).
Currently, Singh is in charge of Audits and Judicial. She is also in charge of Income Tax and Revenue, as well as Taxpayer Services. Sangeeta Singh is one of four members on the board at the moment. Arvind Singh, her husband, is a Maharashtra Cadre IAS officer who is currently serving as the Secretary of Tourism for the Government of India.

Listed below will be her responsibilities as a regular chairman:

• To work on the Income Tax Department's administrative plan.
• Representing India in international organizations such as the United Nations and the Organization for Economic Cooperation and Development (OECD).
• Providing advice to the Union Finance Minister
• To deal with cases that fall under the Income Tax Department Act under the guidelines.
• Monitoring and advising the Ministry of Finance in the Revenue Service.
• Transfer and appointments of officers in the cadre of Income Tax Commissioner and Chief Commissioner.

Facts about the CBDT department:

The Central Board of Direct Taxes, or CBDT, is a division of the Ministry of Finance's Department of Revenue. With effect from 1 January 1964, the Central Board of Direct Taxes took over all affairs connected to direct taxes in India. The Board of Revenue Act of 1963 empowered the CBDT. The CBDT offers vital inputs for India's direct tax policy and initiatives. The Income Tax Department is also in charge of enforcing direct tax rules. The CBDT is made up of six people. The chairman and members of the CBDT are drawn from India's top civil service and the Indian Revenue Service.