Published On
Who is Stormy Daniels? Ex Adult actress involved in Donald Trump's extramarital physical affairs
Stormy Daniels was born in Baton Rouge, Louisiana and raised by her mother following her parents' divorce. Author :
Ujjwal Samrat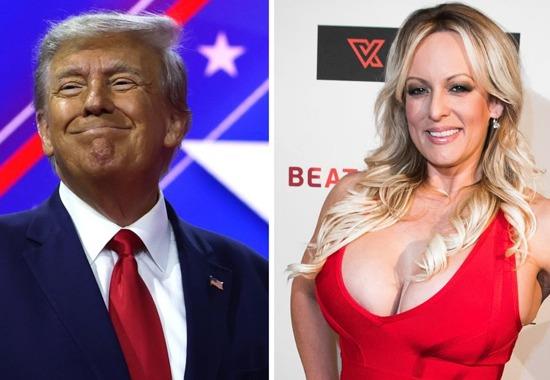 An unwanted history is in the making in the United States of America as its former President Donald Trump on Thursday was indicted. Donald Trump's indictment made him the first former US President to face a criminal charge. This development has caused a significant impact on his attempt to regain the White House. However, the charges against Donald Trump remain undisclosed as of late Thursday, the investigation focuses on payments made during the 2016 presidential campaign to silence claims of extramarital sexual encounters. Talking about Donald Trump's indictment, a former Pornstar named Storm Daniels is in the spotlight. Now, the question arises of how an adult actress Stormy Daniels is linked to Donald Trump and who is she that has forced the Americans to file an unwanted chapter in its history books, lets understand in detail-
What did Donald Trump do?
Reportedly, as Donald Trump fought his way to victory in the 2016 presidential campaign, key allies tried to smooth his bumpy path by paying off two women who had been thinking of going public with allegations of extramarital encounters with the former US President. The payoffs, and the way that Trump's company accounted for one of them, are believed to be at the center of a grand jury investigation that led to a criminal indictment and could result in the first-ever criminal prosecution of a former U.S. president. US media reported that Stormy Daniels was paid $130,000 to keep quiet about what she says was an awkward and unexpected sexual encounter with Trump at a celebrity golf outing in Lake Tahoe in 2006. However, Trump denies having sex with Daniels. Now, another question arises who is Stormy Daniels?
Who is Stormy Daniels and what did she do?
Stormy Daniels is a former porn actor who's also had bit parts in mainstream films like "The 40-Year-Old Virgin" and "Knocked Up". Daniels, whose real name is Stephanie Clifford, was paid the money in the final weeks of Trump's 2016 presidential campaign after her representative said she was willing to make on-the-record statements to the National Enquirer or on television confirming a sexual encounter with Trump. Daniels was 27 at the time and Trump was 60. According to Daniels's account, Trump invited her to dinner in his suite where he welcomed her dressed in his pyjamas. She claims they went on to have what "may have been the least impressive sex I'd ever had". Trump has denied they ever had sexual relations, accusing Daniels of "extortion" and saying her claims are a "total con job".
Now, the question arises if Daniels payment from Trump was sealed then how the former US President was indicted? As per reports, Daniels attempted to capitalize on her newfound notoriety after news of the payment became public, embarking on a nationwide strip club tour in 2018. During a stop in Columbus, Ohio, Daniels was arrested on suspicion of inappropriately touching an undercover officer, but the charges were dropped hours later. Her former lawyer, Michael Avenatti, is serving 11 years in prison for extortion and fraud, including a conviction for stealing $297,000 in proceeds from Daniels' 2018 book, "Full Disclosure."
That payment is at the heart of the Manhattan district attorney's indictment of Trump, reportedly on the possible violation of campaign finance laws. Once the transaction was revealed in 2018, Daniels asked the courts to nullify her nondisclosure agreement with Trump and began making the rounds on television shows. In an interview with CBC, Daniels was also clear-eyed about the promises she said Trump made regarding a possible role in the hit show "The Apprentice," in which he then starred .Did she think he was trying to lure her?
"Of course. I mean, I'm not blind. But at the same time, maybe it'll work out," she said, adding that she saw the relationship as a potential career boost. Stormy Daniels was born in Baton Rouge, Louisiana and raised by her mother following her parents' divorce. She was neglected by her family and sexually abused at age nine by an older man, she wrote in a 2018 memoir. Despite everything, she was a good student and passionate about horses. To earn a living, she first turned to striptease, then the adult film industry, where she became a star actress, director and screenwriter, earning several awards.
Who is the amateur digger? Australian man hits jackpot, finds Gold Nugget worth $250,000 in Victoria