Published On
Who is the suspended Indian Diplomat? India-Canada relationship on a toss after Trudeau's veiled support to Khalistan
Hardeep Singh Nijjar was killed by two unidentified gunmen in Punjabi-dominated Surrey City of British Columbia province Author :
Malkit Singh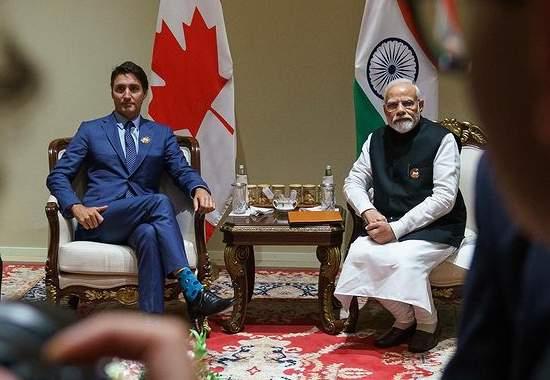 It seems like the India-Canada relationship nosedived to a historic low after Canadian PM Justin Trudeau accused New Delhi of having links in the assassination of a Sikh activist Hardeep Sigh Nijjar. Hardeep Singh Nijjar was killed by two unidentified gunmen in Punjabi-dominated Surrey City of British Columbia province. Notably, just two days after returning to Canada from the G20 Summit in New Delhi, Justin Trudeau called out the Indian Government saying, 'Canadian security agencies have been actively pursuing credible allegations of a potential link between agents of the government of India and the killing of a Canadian citizen, Hardeep Singh Nijjar.' Hours before Trudeau's 'absurd' allegations, the country's Foreign Minister Melanie Joly informed the media that Canada has suspended an Indian Diplomat. To be precise, Melanie Joly said the head of Indian intelligence in Canada has been expelled. Now, the question arises who is the Indian Diplomat?
Who is the suspended Indian diplomat?
Well, the Indian diplomat has not been named by the government of Canada. However, last month, India had raised their concerns over the security of Indian diplomats in Canada after Khalistani outfits displayed top officials' photos in their rally. The Pro-Khalistan outfits had called out rallies in support of the slain KTF leader Hardeep Nijjar and they accused three Indian diplomats of carrying out his killing. With the Khalistani rally directly threatening the Indian diplomats, Canada did not refuse it from happening. After the poster issuing a direct threat to Indian diplomats went viral, India's External Affairs Minister S Jaishankar warned Canada against giving space to Khalistani elements. While talking to the reporters, S Jaishankar had said, "We have requested our partner countries like Canada, US, UK and Australia, where sometimes Khalistani activities happen, not to give space to the Khalistanis. Because they're (Khalistanis) radical, extremist thinking is neither good for us nor them nor our relations."
Notably, the Indian High Commissioner Sanjay Kumar Verma, Consul General Vancouver Manish, Consul General Toronto Apoorva Srivastava were named in the posters circulated by the extremists, claiming that India was responsible for the killing of Khalistani Hardeep Nijjar.
India's response to Canada
Also Read: Who was Hardeep Nijjar? Pro-Khalistan leader responsible for India-Canada standoff
India. MEA issued a strong statement and wrote, "We have seen and reject the statement of the Canadian Prime Minister in their Parliament, as also the statement by their Foreign Minister. Allegations of Government of India's involvement in any act of violence in Canada are absurd and motivated. Similar allegations were made by the Canadian Prime Minister to our Prime Minister, and were completely rejected.
"We are a democratic polity with a strong commitment to rule of law. Such unsubstantiated allegations seek to shift the focus from Khalistani terrorists and extremists, who have been provided shelter in Canada and continue to threaten India's sovereignty and territorial integrity. The inaction of the Canadian Government on this matter has been a long-standing and continuing concern. That Canadian political figures have openly expressed sympathy for such elements remains a matter of deep concern. The space given in Canada to a range of illegal activities including murders, human trafficking and organised crime is not new. We reject any attempts to connect Government of India to such developments. We urge the Government of Canada to take prompt and effective legal action against all anti-India elements operating from their soil."