Republic Day 2023 Chief Guest: Egyptian President visit reason & India's interest in Gulf; Explained
This is for the first time that an Egyptian leader is becoming the chief guest at the Republic Day ceremony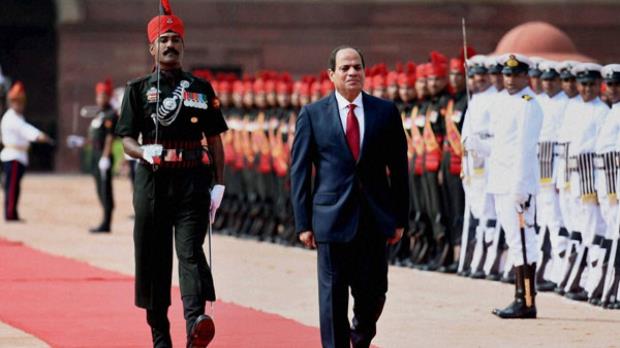 -

President of Egypt Abdel Fattah El Sisi will be the chief guest of the Republic Day 2023 celebrations. India will be celebrating its 74th Republic Day and on this date, India became a 'Republic' nation. Notably, this is for the first time that an Egyptian leader is becoming the chief guest at India's Republic Day ceremony.

Now, the question arises why the Egyptian President is visiting India and whether gracing Republic Day 2023 parade is the only reason behind it. The answer is no. Since the beginning of Covid-19, Egypt has been gripped by an extreme economic crisis. The total foreign debt is 170 billion dollars and the inflation rate has been near around 25%.

At this time, one must be pondering why India, which stands as the fifth-largest economy in the world chose El-Sisi as the chief guest on such an important occasion. What does India want and how will it benefit from it?

If we look at post-independence history, this will be the first time that an Egyptian leader is becoming the chief guest at the Republic Day ceremony.

It has the largest population (about 109.3 million) in Arab countries. Egypt is the biggest voice against terrorism and extremism in the Organization of Islamic Countries (OIC). It has also been 75 years since diplomatic relations were established between India and Egypt.

There is a large number of Indians in Arab countries. The Indian diaspora is not only strong here, but is also respected a lot. After Saudi Arabia and UAE, India now wants to create credibility in the entire Arab world.

India has very good relations with all the Gulf countries, especially Saudi Arabia, UAE and Bahrain. They also have close relations with Egypt.

Therefore, India can become a major military, IT and techno power in the Gulf countries. China is also trying to spread its foot here, but America and European countries want India to play a big role here.

Reliance's Jio True 5G launched in 50 cities around India; Check the state-wise full list here

Egypt's trustworthy partners during the crisis:

• The biggest problem that Egypt is facing is its deteriorating economy. Recently, it had taken a $3 billion bailout package from the IMF, while Saudi Arabia and the UAE stand firmly with Egypt.

• India exported 61,000 tonnes of wheat when Egypt was hit by a food crisis in the backdrop of the Russia-Ukraine War. While on the other hand, Saudi Arabia has given Egypt a loan of $5 billion.

• Egypt's currency pound declined by 50% since March 2022, but friendly countries did not allow it to default. The inflation rate has been around 25%, whereas, in December 2022, the foreign debt had reached $ 170 billion.

• Countries across the globe openly help Egypt, owing to its bright record of being a trustworthy nation. Egypt has a very tough stand on terrorism, drug smuggling, and extremism.