Published On
"Ayurveda has all the powers to cure all kinds of diseases," says Dr. Satnam Singh
Among the finest Ayurvedic Doctors in the city, Dr. Satnam Singh is known for offering a number of medical facilities.
Author :
Priyanka Vinayak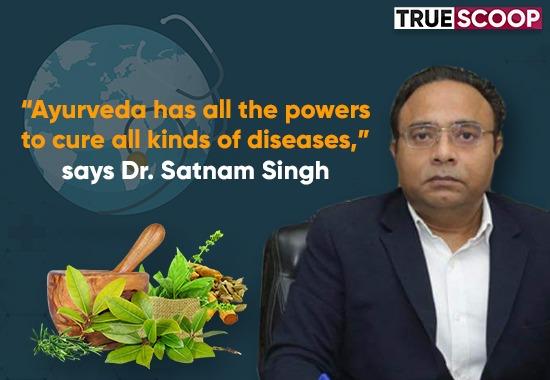 World Health Organization celebrates World Health Day every year on April 7th worldwide to create awareness of the benefits of being healthy. On this day numerous programs and arrangements are curated by the World Health Organisation. 7th April is also the foundation day of the World Health Organization, thus, World Health Day also marks the foundation day of WHO.
On the occasion of World Health Day, to raise awareness about various health issues, True Scoop held an exclusive telephonic interview with Dr. Satnam. Among the finest Ayurvedic Doctors in the city, Dr. Satnam Singh is known for offering a number of medical facilities.
Here are some interesting answers given by Dr. Satnam Singh during the interview:
Q. Overall health index has deteriorated in India. What are the reasons & how can that change?
Dr. Satnam: The main reason is the toxic environment around us. Our eating habits are responsible for it. We relish junk food more these days, instead of taking a healthy and balanced diet. To satisfy our taste buds, we opt for consuming unhealthy food. Food companies take advantage of this; they are adding more concentrated sugar and chemicals to the food, which is ultimately resulting in obesity. In countries like the USA, most people are suffering from obesity due to wrong eating habits.
Another reason is our lifestyle, we watch late-night films and series, and we suffer from diseases like acidity and gastric issues. This is affecting adversely female's body. The menstruation cycle is beginning at an early age which is taking a toll on the body in the later period.
To solve these problems:
1. We should consume a nutritious diet. For this, we can join good online courses to know more about it.
2. We should change our lifestyle.
Q. When the Pandemic hit, Ramdev claimed Coronil can cure Covid but his claim wasn't very well received. Do you think Ayurveda has that power?
Dr. Satnam: Ayurveda has all the powers to cure all kinds of diseases except the ones related to genes. Gut issues increased after Corona. This further resulted in mental health-related diseases. Ayurveda can solve all lifestyle-related issues. So, yes Ayurveda has the power to cure all chronic diseases.
Q. Ayurveda has become trendy but do you think it can ever replace Allopathy?
Dr. Satnam: It cannot replace as both are different. While Allopathy is the modern method of treatment, Ayurveda is the ancient method of treatment. Allopathy is a conventional and evidence-based system where the disease is cured with artificial or synthetic drugs. Although in ayurvedic science, herbal ingredients and natural processes are used to cure the disease. Drugs provided in allopathic treatment are targeted to suppress symptoms in the initial stage in a quick way, whereas ayurvedic leads diagnose the root of the cause and vanish them away.
Dr. Satnam's insights on Ayurveda pointed out some important aspects that how Ayurveda can cure diseases and is beneficial in a long run.