Sushil Kumar, at the height of his powers, single-handedly propelled Indian wrestling to new heights, but as police search for him in connection with a murder case, the sport's reputation has taken a hit equal to that of the trailblazing grappler.

Once a star at 2012 London Olympics now has been alleged as the murderer.


Let's look at the Sushil Kumar's journey from a wrestler to a murderer.


Sushil Kumar was born on May 26, 1983, to Diwan Singh and his wife Kamla Devi in Baprola village, on the outskirts of New Delhi. His father worked for the Delhi Transport Corporation as a bus driver and was a wrestling fan in his own right.

Kumar's cousin Sandeep was also a wrestler, and it was his cousin who inspired him to take up the sport. His father also aided him. Kumar began wrestling training at the 'akhada,' or wrestling academy, located in New Delhi's Chhatrasal Stadium, when he was 14 years old. Satpal, a well-known wrestler, was one of his coaches.





Sushil Kumar began playing at the junior level, winning his first tournament in 1998 when he won the gold medal at the World Cadet Games. He went on to win the gold medal at the Asian Junior Wrestling Championship two years later, cementing his reputation as one of the country's most talented young wrestlers.

Looking at his achievements, Sushil Kumar was honoured with the Arjuna Award in 2005.

After then, Sushil Kumar never turned back.

He won bronze in the 66kg freestyle category at the 2008 Beijing Olympics. In the same year, he received the Rajiv Gandhi Khel Ratna Award, India's highest sporting honour.





Sushil Kumar made history by becoming the first Indian to win a world title in wrestling at the 2010 World Wrestling Championships in Moscow. In the same year, he won a gold medal in the Commonwealth Games in Delhi in the 66kg freestyle category.


In 2011, he was honoured with Padma Shri—the fourth highest civilian award in India.

Also Read: Yuvraj Singh upset at not getting regular chances in Test cricket

In 2012, he made history by becoming the first Indian to earn back-to-back individual Olympic medals when he won silver in the 66kg freestyle category at the London Olympics. He is the only person in Olympic history to have won two individual gold medals.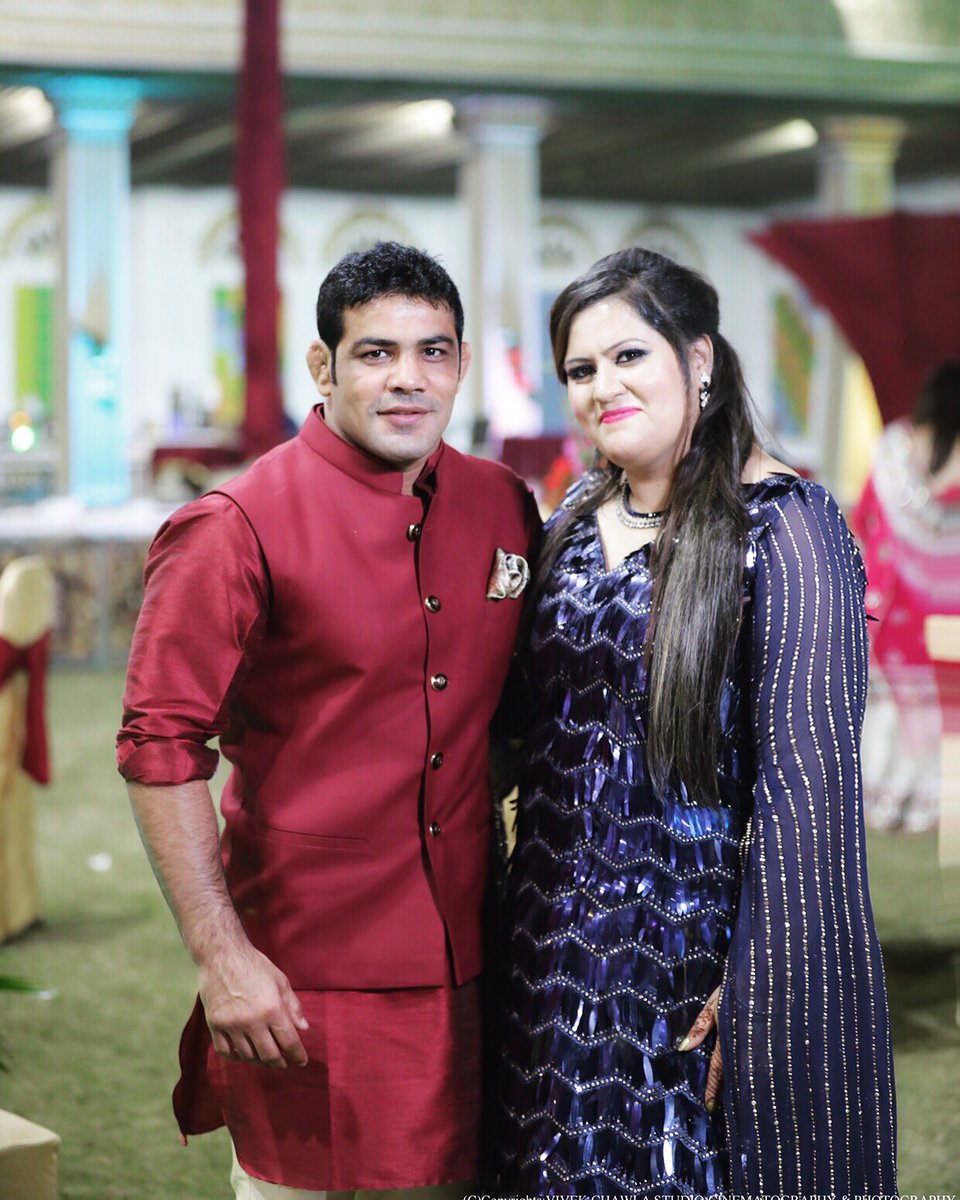 He got married to Savi Solanki, the daughter of well-known wrestler guru Satpal, on 18 February 2011. The couple was blessed with twin boys in 2014.


Sushil Kumar was a role model for many young Indian wrestlers, now has been accused of using guns as well as harassing the junior wrestlers in the past.



Sushil came into controversies ahead of the 2016 Rio Olympics.

During the World Wrestling Championship in 2015, Maharashtra's wrestler Narsingh Panchan Yadav was selected. At the championship, he won a bronze medal, and then a controversy started. Sushil Kumar was also one of the players who claimed for the 74kg freestyle category.

Later, because for some reason Kumar was out of Olympic qualifiers, and the way for Narsingh was clear. But during the dope test, Narsingh was found positive ten days before the Olympics.At that time, Narsingh blamed Sushil Kumar and said that his food was adulterated by Sushil Kumar.

Satpal Singh, Sushil's coach and father-in-law, was in charge of the stadium from 1982 until 2016, when he retired as additional manager.Sushil was then named as an OSD, a decision that is thought to have been made to keep the stadium under the family's control.

Sushil Kumar was once again into the headlines in 2017, when a junior wrestler, Parveen Rana accused him of harassing and assaulting. It is also said that the wrestler is fond of guns. He uses to point guns at anyone.

"Sushil, who is on Railways' deputation," the source said, "calls the shots," adding that if you don't listen to him or do what he suggests, he would secretly start threatening you.

"People are afraid to say something because they came to make a career, not to engage in politics," the source said. "They find it more convenient to quit than to endure the stadium politics."





Famous wrestlers like Yogeshwar and Bajrang, according to a source at the stadium, left because "they were targeted by Sushil's camp for not toeing their line."

Outside the stadium during the 2018 Commonwealth Games trials, when Sushil defeated Praveen Rana in the final, supporters from both camps exchanged blows.

Sushil also serves as the President of the School Games Federation of India (SGFI). Praveen Rana said that the SGFI secretary fabricated his signature to amend the organisation's bylaws and committed other irregularities.So he filed a FIR against the secretary, and in March, he was re-elected President of the body after new polls were conducted under the direction of the Sports Ministry.

Sushil Kumar is embroiled in yet another controversy after a young wrestler was killed in a clash between two groups on the grounds of the Chhatrasal stadium in North-West Delhi on May 4.The incident occurred at a time when Indian wrestling is celebrating its most quotas — eight for the Olympics in its history.

The incident occurred as a result of a property dispute in the Model Town district.

Also Read: Chhatrasal Stadium brawl: The Life and Downfall of Wrestler Sushil Kumar

According to the victims' accounts, Sushil and his associates kidnapped Sagar from his Model Town home to teach him a lesson for badmouthing him in front of other wrestlers.

A 23-year-old wrestler died and two of his friends were wounded, according to police, after they were allegedly violently assaulted by other wrestlers inside Chhatrasal Stadium in the city's northern outskirts.

During the investigation, it was discovered that a quarrel had occurred in the parking area between Sushil Kumar, Ajay, Prince, Sonu, Sagar, Amit, and others.





According to the police, one Scorpio was discovered with a double barrel loaded gun and five live bullets, as well as two wooden sticks.All the five vehicles and weapons of offence were seized.

Sushil Kumar was allegedly present at the scene when the incident occurred, according to the victims.

However,Sushil Kumar had previously claimed that none of his wrestlers were involved in the fight.
During a brawl in the Stadium's parking lot, Sagar Rana was beaten to death. Kumar has been charged with murder, kidnapping, and criminal conspiracy.

After the death of Sagar Rana on May 5, Sushil Kumar has been on the run. The senior wrestler has been charged with murder, kidnapping, and criminal conspiracy.

Sushil Kumar and six others were given non-bailable warrants by a Delhi court last week, just days after a lookout notice was issued against the two-time Olympic medalist in the same case.Delhi Police also announced a cash award of Rs 1 lakh for feedback on the wrestler who was absconding since May 4.





Sushil went to Haridwar and then Rishikesh to avoid being arrested.To apprehend him, raids were carried out in the Delhi-NCR area and neighbouring states.

After then, Olympic medalist Sushil Kumar filed an anticipatory bail application with the Rohini Court in connection with the murder of 23-year-old wrestler.





After a long run, Sushil was arrested along with a co-accused from northwest Delhi's Mundka.Special cell led by two inspectors Shivkumar and Karambir, and supervised by ACP Attar Singh, following a tip-off, arrested Sushil Kumar and Ajay from Mundka area of Delhi on May 23.

However earlier their were reports that Sushil Kumar was arrested near Jalandhar by Punjab Police but the Delhi police claimed that he was arrested near Delhi.








After this incident, WFI said that Sushil Kumar had tarnished the reputation of Indian wrestling. Wrestlers were once regarded only as a bunch of goons, so the sport has had a difficult time establishing a reputation.

The reputation of Chhatrasal Stadium, which has delivered some of India's best wrestlers, including Sushil, Yogeshwar, Bajrang, and now Tokyo-bound Ravi Dahiya and Deepak Punia, has also been tarnished.

Sushil's stellar international image, which he built over the years with spectacular results, many of which he gave himself, has been tarnished.