Published On
Yuzvendra Chahal's wife Dhanashree Verma faces online hate amidst breakup rumours; Read fans' reaction
Yuzvendra Chahal's choreographer wife Dhanashree Verma has been facing online hate ever since their split-up rumours have been doing rounds
Author :
Ujjwal Samrat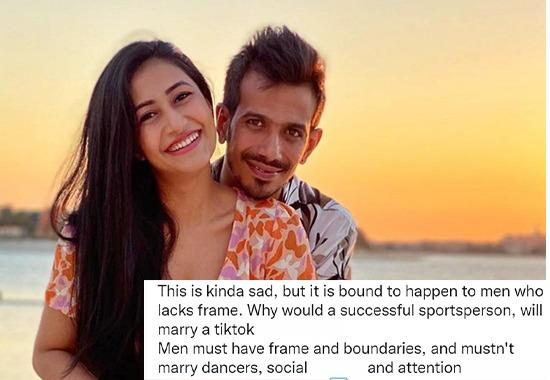 Yuzvendra Chahal Dhanashree Verma breakup speculation has been spreading like a wildfire on social media. Yuzvendra Chahal Dhanashree Verma breakup rumours took the center stage following the couple's cryptic behaviour on social media. While Dhanashree Verama removed her surname 'Chahal' from her name on Instagram, Yuzvendra Chahal's 'new life loading' cryptic story raised eyebrows of their fans. Yuzvendra Chahal and Dhanashree Verma are widely followed and fans quite adore their chemistry whenever they appear on screen or on social media.
However, Chahal's choreographer wife Dhanashree Verma has been facing online hate ever since their split-up rumours have been doing rounds. Angry fans took to Twitter on Thursday and trolled Dhanashree over her speculated breakup with Yuzvendra Chahal. In fact, few fans took their speculation on another level saying that the fans will stand behind Team India leg spinner if it comes to Yuzvendra Chahal Dhanashree Verma divorce. Many even used derogatory terms against Dhanashree Verma.
Here's how fans targetted Dhanashree Verma amid breakup speculation
This is kinda sad, but it is bound to happen to men who lacks frame. Why would a successful sportsperson, will marry a tiktok nachaniya?
Men must have frame and boundaries, and mustn't marry dancers, social bitches and attention wh°res.

— Ameet (@raaz_ameet01)
Bhai don't give her divorce, drag her in court . Whole nation is with you 🙏

— Lakshman (@Rebel_notout)


When Yuzi Chahal feels Sad after Divorce,

Guys :

— g0v!ñD $#@®mA (@rishu_1809)
Aukaat uno
Dhanashree or wtever her name is was irrelevant before she married Chahal

— Scott Edwards stan (@sanchi2social)

Yuzvendra Chahal Dhanashree Verma breakup on cards? Fans sense something wrong going on between couple
Anushka is hardly doing any movie after marrying Kohli and Chahal has given all the freedom to his wife to dance with any guy she likes. But if you ask any girl about her dream husband, it will be always Kohli not Chahal. Makes you think.

— EngiNerd. (@mainbhiengineer)
aukaat😭😭 i didn't even knew who's dhanshree before she married chahal

— Aman Rai🇮🇳 (@AmxnRai)
It is pertinent to mention here that neither Yuzvendra Chahal nor Dhanashree has commented anything on the ongoing breakup speculation on social media.
Dhanashree Verma Yuzvendra Chahal relationship
Yuzvendra Chahal married Dhanashree Verma on December 22, 2020. Yuzvendra Chahal was reportedly learning dance from choreographer and social media influencer Dhanashree Verma when the duo fell in love. Following their marriage, Dhanashree has been seen in the stadium multiple times during the IPL and International matches supporting her better half Yuzvendra Chahal.
Talking about Team India's ace leg spinner Chahal, he will next be seen in action at the Asia Cup 2022, where India will open their campaign against arch-rivals Pakistan on August 28, at the Dubai International Stadium.