7 Whisky brands perfect for Rainy days: Expert recommendations
Top Whiskies to brighten Rainy days: Expert picks for Monsoon enjoyment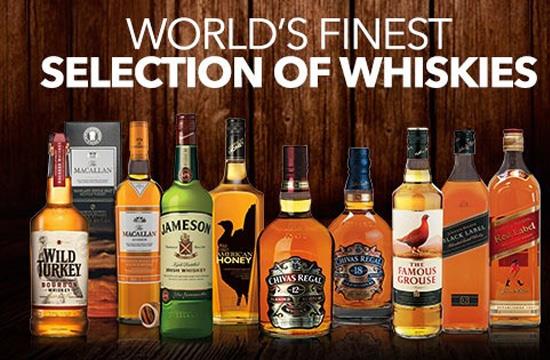 -

When the rain pours down, whisky connoisseurs know it's time to savor the perfect dram that complements the rainy ambiance. Renowned restaurateur and whisky expert, Ashish Dev Kapur, along with bartender and whisky aficionado, bring you seven exceptional whisky brands perfectly suited for the rainy season.

1. Singleton 12 Year Old

Delicate Balance of Flavors

Kapur recommends this single malt Scotch for its intricate blend of fruity and floral notes, harmonizing beautifully with the earthy scents of the rainy season. Its smoothness and subtle oak undertones make it an ideal choice for sipping and relishing during rainy evenings.

2. Longitude 77

Crafted in Small Batches

Tewari introduces this brand, crafted in small batches, as the epitome of contemporary Indian luxury. Named after Longitude 77, marking India's position on the world map, it's a choice that reflects authenticity and exclusivity.

3. Jameson Irish Whiskey

Light and Crisp Character

Kapur praises Jameson's light and crisp character, perfectly aligned with the monsoon season. Its gentle sweetness, coupled with hints of vanilla and toasted wood, offers a comforting and uplifting experience, a seamless match for rainy days.

4. Suntory Whisky Toki

A Fusion of Japanese Excellence

Also Read: India-Canada tensions rise: Trudeau's allegations and India's response

Tewari highlights Suntory Whisky Toki, a Japanese whisky seamlessly blending malt and grain whiskies. With its light, floral character and subtle citrus undertones, it's a versatile pick appealing to both newcomers and seasoned whisky enthusiasts.

5. Amrut Fusion

Embracing India's Essence

Kapur celebrates Amrut Fusion as an Indian single malt whisky that encapsulates the spirit of the subcontinent. Its rich flavors, featuring tropical fruit and spicy nuances, provide warmth and allure, making it a monsoon favorite.

6. Jack Daniels

Rich and Robust

Jack Daniels, known for its rich and robust character, perfectly complements the Indian monsoon. With deep flavors, including caramel and oak, it exudes warmth and comfort, making it an ideal choice for the rainy season.

7. Dewar's Japanese Smooth

An Exceptional Fusion

Combining Scottish and Japanese whisky traditions, Dewar's Japanese Smooth offers a velvety palate, balancing fruity notes and gentle smokiness. This unique fusion captures the essence of both worlds, delivering a harmonious and exceptionally smooth drinking experience, tailored for discerning connoisseurs.

Conclusion

Indulge in these carefully curated whiskies that elevate the rainy season into a delightful whisky adventure.