Published On
"AAP should put their best foot forward from the very beginning," says Bhavdeep Sardana
True Scoop had an Exclusive talk with Mr Bhavdeep Sardana, Immediate past Chairman of Confederation of Indian Industry (CII) Punjab.
Author :
Priyanka Vinayak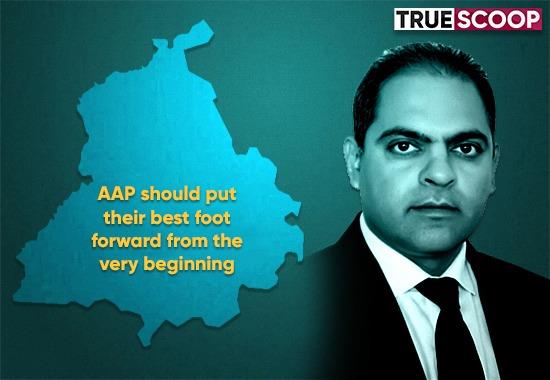 The Aam Aadmi Party registered a landslide victory in the Punjab Assembly polls by winning 92 of the 117 Assembly seats. AAP leader Bhagwant Mann is set to become the new Chief Minister of the state.
In True Scoop's Exclusive telephonic interview with Mr. Bhavdeep Sardana, we had a quick question answers round with him. Here are some of his interesting answers:
What do you think about the result? Did you expect it?
The interaction with various stakeholders, the initial reaction what everyone was telling me was that it is going to be a hung kind of a mandate. What everyone said in the popular opinion was also predicting this day before the exit polls came out but it seems that people have voted for change, they have not accepted the policies of the present government or the past so I will not say I'm surprised as much but the aspiration of the people has come out in this mandate and I hope that AAP lives up to the aspiration of the people.
Do you think Punjab's industry/education has hope now that AAP is in power? What will be the projected impact on the industry?
With such a strong Mandate I'm sure AAP and the leaders will have taken note of such a strong mandate and they would use all their collective brains and they would put their best foot forward from the very beginning. So that there is no ambiguity in policy, there is no let-up in the promises made. If they are going to say we are going to improve government and if that happens from day 1, I think then the people will get what they have voted for.
Do you think AAP will deliver its promises?
I'm sure any political party when given such a mandate and all parties in the past have tried to deliver, there are some uncertain events such as Covid took place which literally halted the development work across the country. So, I hope for the sake of our beloved Punjab such events don't occur. We are witnessing the Russia-Ukraine war which is increasing the fuel rates, the industry is affected by rising input costs but for the sake of the nation and state, I hope stability happens. Whatever policy the new government decides, the intent of the government and the aspiration of the people matter.