Published On
The Kapil Sharma Show: Angry Smriti Irani cancels shoot as guard did not recognise her
As soon as the shot was cancelled, there was commotion on set, and the guard also fled from the scene.
Author :
Sheetal J Bhalla
Union Minister Smriti Irani appeared on The Kapil Sharma Show to promote her book 'Lal Salaam,' however the set guards did not recognise her and prevented her from entering. The angry minister returned without any shoot. She was going to address her book on this episode.

There was chaos on the sets when Kapil and his production crew learned about this. After that, the production crew attempted all they could to contact Smriti Irani, but the shoot had to be cancelled. Following then, a large group of police officers arrived and engaged in a lengthy discussion with Kapil's production team.

When things didn't go as planned, the production crew requested everyone on the set to leave.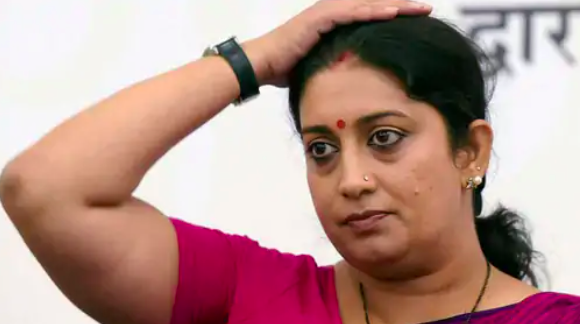 According to insiders, the Union Minister arrived at Kapil Sharma's set in the evening with his driver and a two-person crew to shoot the show. The security guard at the front gate, Anna, couldn't identify him and refused to let him in. Smriti informs him that she has been invited to shoot the episode on the sets as a special guest. 'We have not got any instruction, sorry madam, you cannot go inside,' the guard said.


Allowed Zomato's delivery boy to enter

Smriti tried for a long time to convince the guard, but the guard refused. Then came Zomato's delivery boy, who had gone inside to give meal packets to the artists, and the guard let him in without question. The Union Minister was furious about it. Sh e also made phone calls to the production crew and Kapil Sharma, according to the sources, but the conversation could not happen. After all, Smriti Irani returned without shooting after getting angry.


After chaos, guard switched off the phone

When the security officer learned that the lady she disobeyed and prevented from enterin is Union Minister Smriti Irani, he panicked and fled the set. He's also turned off his phone. Despite their best efforts, the production crew was unable to convince Smriti Irani to return to the set.



Promotion of Sunny Deol' son movie
On Tuesday, Sunny Deol's son's film was promoted. Despite the fact that the episode of Smriti could not be shot, Sunny Deol appeared on the Kapil Sharma set on Tuesday to promote his son Karan Deol's forthcoming film 'Velle.' His episode has been recorded. Smriti Irani's book will now have to wait a bit longer for readers and viewers to learn about it.



Smriti Irani Thriller book 'Lal Salaam'
Thriller novel 'Lal Salaam' took 10 years to write, according to reports. Smriti Irani based her thriller book 'Lal Salaam' on a true story and it took her nearly 10 years to finish. On November 29, Westland Publishing Company will release this book.