Asia Cup: There's a difference in overall atmosphere when India play Pakistan, says Harbhajan as archrivals get ready for next clash
It's no secret that the India-Pakistan cricket rivalry brings the two nations to a standstill, with the winning side getting all the praise and the losing team receiving brickbats.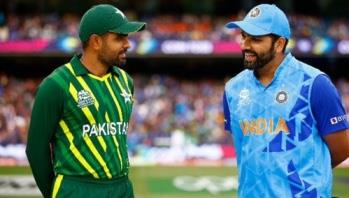 -

It's no secret that the India-Pakistan cricket rivalry brings the two nations to a standstill, with the winning side getting all the praise and the losing team receiving brickbats.

Similar scenes will be repeated when India face Pakistan in the Super Four match of the Asia Cup at Colombo on Sunday. Harbhajan Singh, the former India off-spinner, admitted that there's a difference in the atmosphere when playing against Pakistan, as compared to other teams.

"India-Pakistan is not just a game, it's much more than that. Emotions are so high that one can't really speak much before the game as there's a lot of tension in the mind. I could feel that if you play against other teams and then against Pakistan, then there's a difference in the overall atmosphere."

"Indian cricketers are under immense pressure (from the fans) especially when they play against Pakistan. If the result goes the other way, a lot of things then spiral in the mind due to thinking about it like people will say this and that," said Harbhajan in a virtual press conference organised by Star Sports.

Shoaib Akhtar, who has been involved in many India-Pakistan duels, pointed out how Indian skipper Rohit Sharma was bogged down by the pressure, especially from social media trolling and how the right-handed batter has been left spooked by left-arm pacer Shaheen Shah Afridi, who castled him in the Asia Cup league match at Pallekele.

"The pressure mounted on players by social media is so high. For instance, one can see that this is not the same Rohit Sharma. This one, who playing, is resembling a body double. Shaheen has conquered his subconscious mindset."

"I have never seen him change his stance before, but what was happening there? He changed his stance and got bowled by Shaheen. This is what pressure of the India-Pakistan match does to players; it is there on players from both sides."

Harbhajan chimed in to request fans that they shouldn't be over-critical of either team if one of them ends up on the losing side. "I remember 2003 (ODI World Cup) when we lost to Australia (in the final), slogans were raised here (back home)."

"During the 2011 World Cup semifinal (which India won), if you lose, you would need security outside your home as anyone could throw a stone or do something untoward. My request to those people is these are players but any team can win on a day. India would like to win, but this is a ground where any team can win on any given day."

Akhtar claimed that when India and Pakistan face in the Men's ODI World Cup next month in Ahmedabad, the pressure will be more on Rohit & Co.

"The Indian media will put an incredible amount of pressure on Pakistan, they will build it up like Mahabharata. That is an uncalled amount of pressure to have ahead of the game. They will say that India will defeat Pakistan with ease, and that is where things will turn topsy-turvy."

"Rohit Sharma and India will face a lot of pressure because of that because they will already be portrayed as the winner. Pakistan will be under no pressure because the media will expect them to lose."

The former Pakistan tearaway pacer also feels that Babar Azam & Co will go into the World Cup duel against India as underdogs, but reminded that the side has a settled look as compared to India.

"Nobody is going to talk about the World Cup when these two face each other, it's just going to be India versus Pakistan. And I believe this is going to be one of the best World Cups for the past 50-60 years."

"This is going to be the most amazing World Cup ever, with India hosting it. I want India to make full use of this World Cup. But Pakistan will be the underdog and what Pakistan will do is play with their three pacers along with the medium pacer and the two spinners. Pakistan will be a strong contender along with India and England."

"Beating India in India is going to be the most impossible thing. But beating Pakistan in India, in subcontinent conditions is also close to impossible because both teams have a good pace battery, and one team has a good spin attack. There has been an elevation to Pakistan's batting unit, and now it looks like a settled squad," he concluded.