Published On
Berlin Marathon: Two-time Olympic champion Eliud Kipchoge betters his own world record, clocking at 2:01:09
The two-time Olympic champion became the second man after Ethiopian Haile Gebrselassie to win Berlin Marathons an impressive four times
Author :
Tushar Singh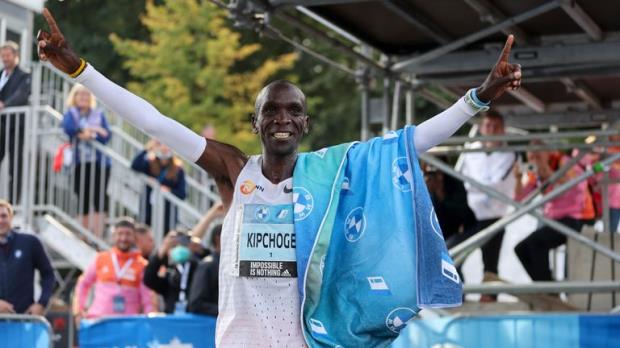 Kenyan runner Eliud Kipchoge has taken over his own world record by half a minute to complete the race in 2hrs 01mins 09sec at the Berlin marathon earlier today.
He fell short by just over one minute to edge past the elusive 2hrs mark which he seemed set to break at the halfway point in the race. Despite slowing down he bettered his 4-year-old world record from Berlin set at 2hrs 01mins 39secs.
His fellow countryman Mark Korir finished second at 2hrs 05mins 58secs, while Ethiopian Tadu Abate finished third right after half a minute spot.
Andamlak Belihu, another Ethiopian who kept up with Kipchoge for over two-third part of the race unfortunately failed a mark shot for a podium finishes to settle for fourth.
Kipchoge, who on Friday said his only goal was "to run a good race", burst out of the blocks, clearly aiming not only for a world record but to beat the two-hour mark. A pod of around seven runners kept up with Kipchoge for the first 10 kilometers, before 2021 winners Guye Adola, and Belihiu pulled away after 15 kilometers.
2nd T20I: Rohit was simply brilliant, say Karthik and Finch after India skipper blasts 46 off 20 balls
The two-time Olympic champion became the second man after Ethiopian Haile Gebrselassie to win Berlin Marathons an impressive four times. Gebrselassie owned the race on the trot from 2006-2009.
The 37-year-old Kenyan has won 15 of his 17 career marathons, including illustrious two Olympic gold, besides cornering 10 major titles to his credit.