Published On
Big drop in gold and silver prices before Akshaya Tritiya: Find out the prices here
On 2nd May, the price of gold and silver dropped dramatically which is the day before Akshaya Tritiya
Author :
Nishtha Jairath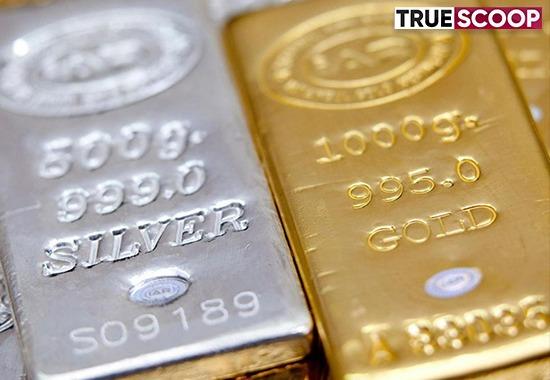 The price of gold and silver dropped dramatically the day before Akshaya Tritiya, on 2nd May. Gold has dropped by Rs 649 to Rs 51,406 in the bullion market, according to the website of the India Bullion and Jewelers Association (IBJA). On the futures market, gold is currently trading at Rs 51,025 on the MCX, down Rs 729 at 3.30 pm.

Listed below is the gold rate as per carat:

If we talk about silver:

The bullion market has dropped by Rs 1,954 to Rs 62,820 per kg. It is currently trading at Rs 63,294, down Rs 1,055 on the MCX at 3.30 p.m.

The occasion of Akshaya Tritiya:

On 3rd May the country will celebrate the Akshaya Tritiya holiday. On this day, Hinduism considers gold and silver purchases to be auspicious. You can also benefit from the price reduction in this circumstance.

Which jewelry is considered to be the purest?

Gold of 24 carats is the purest kind of gold, it is too soft to be used for jewelry. Jewelry is usually made of 22-carat gold, which contains 91.66 percent gold. A different hallmark number would be assigned to each carat. 999 on 24-carat gold, 958 on 23-carat gold, 916 on 22-carat gold, 875 on 21-carat gold, and 750 on 18-carat gold, for example, there is no debate regarding its purity.

Get an insight about the purity of gold:

carat 1-carat gold equals 1/24 percent gold; for example, if your jewelry is 22 carats, divide 22 by 24 and multiply by 100. (22/24) x100 = 91.66, indicating that the gold in your jewelry is 91.66 percent pure.
Calculating the prize of 1-carat gold:
For example, if the price of 24-carat gold is Rs 51,000, the price of 22-carat gold will be (45000 / 24) x 22 = Rs 46,750 if purchased on the market. In the same way, the price of 18-carat gold will be set. While the jewelers deceive you by providing you the same gold with the offer, (45000/24) x18=38,250