Published On
Budget 2023 Highlights: Tax Slab change, Key announcements for start-ups, farming, women and more
Calling it the first budget of "Amritkal", the FM marked the Indian economy's journey towards a progressive front saying the future of India's growth story is bright Author :
Tushar Singh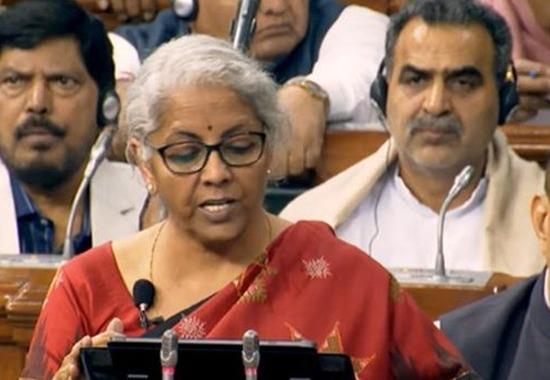 Union Nirmala Sitharaman presented India's annual budget and PM Modi regime's second last before the bell of the 2024 Lok Sabha election rings in.
Calling it the first budget of "Amritkal", the FM marked the Indian economy's journey towards a progressive front saying the future of India's growth story is bright.
The budget has brought a huge relief for the middle class and alongside increasing the limit of tax deduction Nirmala Sitharaman brought in a set of major announcements intended to provide big support for women and other working class of the society.
Besides allocating the share from the Union Budget to students, farmers and senior citizens she announced the construction of 50 new state of art facility enabled airports across India:
Let us dive into detail about what is there in the Budget 2023.
• No tax on Income up to Rs 7 Lakh:
Finance Minister Nirmala Sitharaman complied with the studies and demands of the middle class and raised the tax rebate limit to Rs 7 lakh under the new tax regime, up from Rs 5 Lakh. This means people with income up to Rs 7 lakh per annum will effectively pay no income tax.
New Tax Slabs after Budget 2023:
Rs 0-3 Lakhs - Nil
Rs 3-6 Lakhs - 5%
Rs 6-9 Lakhs - 10%
Rs 9-12 Lakhs - 15%
Rs 12-15 Lakhs - 20%
Above Rs 15 Lakhs - 30%
• Free Ration announced for 1 year:
Union government via the FM announced, with the onset of COVID the govt provided free ration for 80 crores people for over 28 months, which has been further increased to 1 more year beginning January 1st 2023 for which a separate fund of Rs 2 Lakh Crores has been allocated.
• Budget for the Farmers:
In her budget speech, Nirmala Sitharaman made many announcements for the betterment of the farmers. She said that priority will be given to start-ups related to agriculture. Agriculture Accelerator Fund will be set up to encourage agri-startups by young entrepreneurs. At the same time, keeping in mind animal husbandry, dairy and fisheries, it has been announced increase the agricultural loan target to Rs 20 lakh crore.
PM Pranam Yojana will be started. This scheme will be to promote alternative fertilizers. Apart from this, 500 new plants will be set up under the Govardhan scheme. In the next 3 years, one crore farmers will be assisted to adopt natural farming, besides, 10,000 Bio Input Resource Centers will be opened.
New Income Tax Rate Slabs after Budget 2023 Explained
• Budget for Health:
157 new nursing colleges will be established.
New mission to be launched to eradicate sickle cell anaemia.
A new program is to be launched to promote pharmaceutical development research.
To encourage public and private joint medical research for facilities in selected laboratories of ICMR.
• Budget for education and skill:
Revival of teacher training through District Institutes of Education and Training.
Digital Library for Students.
Libraries at Panchayat and Ward levels.
• PM PVTG Development Mission:
Under the visionary PM PVTG Development Mission, facilities like safe housing, clean drinking water, education, health and nutrition, and roads will be made fully available. Under this, an amount of 15000 crores will be made available for three years.
• PM Kaushal Vikas Yojana 4.0 Announced:
PM Kaushal Vikas Yojana 4.0 was announced to provide skills to lakhs in the next three years. 30 Skill India International Centre to be established.
50 tourist places will be identified. These will be developed as a complete package for domestic and international tourism. States will be encouraged to open Unity Mall in the capital. Under this, One District, One Product and Handicraft items will be promoted.
• What becomes cheaper and costlier post Budget 2023:
Goods that got cheaper: Toys, bicycles, mobile phones, mobile camera lenses, automobiles, electric vehicles, lithium batteries, LEDs, television, and biogas-related articles.
Goods that turned Costlier: Gold, platinum, exotic silver, diamonds, cigarettes, brass, exotic toys, clothes, heating coils, and X-ray machines.
• Big announcement for Senior Citizens and Women:
The finance minister has made a big announcement for women and senior citizens. In the budget, she announced the starting Mahila Samman Bachat Patra Yojana. In this, women will get 7.5% interest on savings of 2 lakhs, while the limit of the Senior Citizen Account Scheme will be increased from 4.5 lakhs to 9 lakhs.