Published On
Chandigarh boys, Punjab girls wins Federation Gatka Cup
Maharashtra team won fair play award Author :
Rakesh Behal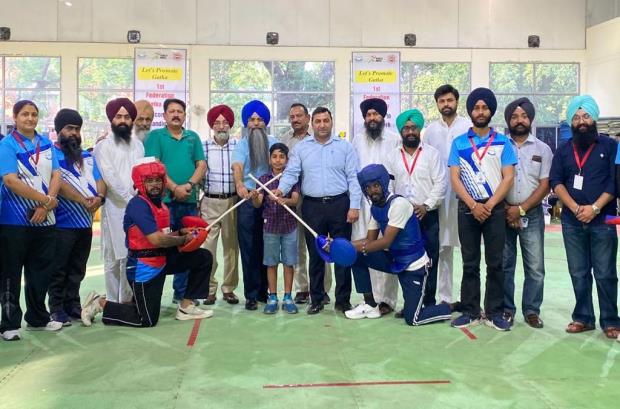 On the concluding day of the first Federation Gatka Cup organized by the National Gatka Association of India (NGAI), the boys Gatka team of Chandigarh emerged victorious in the boys' events, while the girls of Punjab won the trophy in the girls' events. Maharashtra won the Fair Play Award while Jharkhand won the Best Improved Team award during the two-days national tournament. In addition to this, Haryana's Arjmeet Kaur won the best women player award while Chandigarh's Yashpreet Singh received the best player award.
The final Gatka competitions were inaugurated as the chief guest by Dr. Dalwinder Singh, Director Sports, Panjab University Chandigarh, along with Dr. Sunil Rayat, Joint Director, Chandigarh Administration sports department, Harjeet Singh Grewal, President, National Gatka Association of India, Chandigarh Olympic Association General Secretary N.S. Thakur and Chandigarh Gatka Association President Hardeep Singh Butrela jointly.
Speaking on the occasion, Dr. Dalvinder Singh, Director Sports, encouraged all the players to play with ideal sportsmanship spirit and continue working hard for better performance during competitions in future. The NGAI President Harjeet Singh Grewal, State Awardee, announced that the second Federation Gatka Cup would be organized in Chhattisgarh state and the winners of the national competition during Champions Gatka Trophy would be given cash prizes.
Giving this information, Chandigarh Gatka Association General Secretary Rajdeep Singh Bali and Finance Secretary Simranjit Singh said the Gatka teams comprising boys and girls from 13 states have participated in this two-day national tournament. Giving details he further informed that in the girls' Gatka Soti (individual) final competition, Paramjit Kaur of Haryana has won gold, Kajal of Jharkhand won silver, whereas Kirandeep Kaur of Punjab and Mehak of Madhya Pradesh jointly won bronze medals. Similarly, in the Gatka Soti (Individual) boys final, Gursagar Singh of Punjab won the gold medal, Jeevanjot Singh of Chandigarh won the silver medal and Arshdeep Singh of Chhattisgarh and Jaideep Singh of Uttarakhand won the bronze medals jointly.
In the girls' Farrie-Soti (Team) event Punjab's Harmeet Kaur, Jaspreet Kaur and Sumandeep Kaur won the gold medals. Haryana's Kanchanpreet Kaur, Tamanna and Himanshi won the silver medals. In the same event, Simranjit Kaur, Manjot Kaur and Paramjit Kaur of Jammu and Kashmir and Sukhum Kaur, Harpreet Kaur, Ishineet Kaur of Delhi jointly won bronze medals.
In the boys' Farrie-Soti (Team) event, Chandigarh's Sarabjit Singh, Yashpreet Singh and Dilpreet Singh won gold medals. Bihar's Rishu Raj, Vishal Singh and Ankush Kumar won silver medals, while Punjab's Viru Singh, Kamalpreet Singh and Anmoldeep Singh and Chhattisgarh's Mandeep Singh, Rajveer Singh and Dipanshu Yadav jointly won bronze medals.
On this occasion, among others, N.G.A.I. Vice President Sukhchain Singh Kalsani, International Sikh Martial Art Council Secretary Baljit Singh, Chandigarh Rowing Association Secretary Advocate Rajeev Sharma, Gatka Association of Punjab Joint Secretary Varinderpal Singh Narangwal, Coordinator Inderjodh Singh Zirakpur, District Roopnagar Gatka Association President Bibi Manjit Kaur etc. were also present.
Photo Caption:
Dr. Dalwinder Singh, Director of Sports, Panjab University Chandigarh, Dr. Sunil Rayat, Joint Director of Sports, Chandigarh Administration, President Harjeet Singh Grewal, N.S. Thakur, Hardeep Singh Butrela and other office bearers of the Gatka Association inaugurating the Federation Gatka Cup at Chandigarh.