Published On
Dog Repellent on Amazon: Buy electronic device starting from Rs 300 to keep yourself protected amidst raising dog attacks
For those worried about the rising dog attacks, Amazon is selling dog repellent devices on its E-commerce web site Author :
Ujjwal Samrat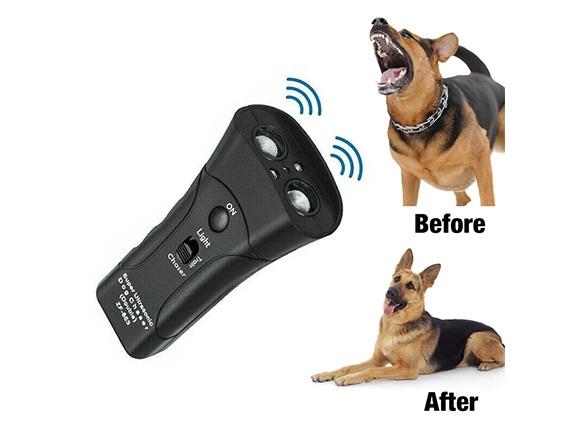 Over the past few days, incidents of dog attacks have spiked. Be it a pet dog attacking a kid inside a lift or a stray dog chasing down teenagers in Kerala, the cases of dog attacks have induced horrors among people. One of the most spine-chilling dog attacks took place when a Pitbull attacked a kid playing in a park in Ghaziabad. Although the kid's life was saved, he got more than 200 stitches on his face. Not only this, two women were involved in a heated verbal exchange. While one woman wanted to bring her pet dog inside the lift, another woman refused saying that she does not want her life to be threatened. With dog attack horror rising, Dog Repellent device has been trending on social media and on Google. For those worried about the rising dog attacks, Amazon is selling dog repellent devices on its E-commerce web site
Dog repellent device
Dog repellent is a device mostly used to control aggressive dogs and train them. A dog repellent device can emit a piercing ultrasonic tone that dogs hate. With it, you can train your pet to be obedient, correct misbehavior, and stop barking. Humanized design, safe to humans and harmless to dogs. Dog repellent is already available on multiple E-commerce websites including Amazon, Flipkart, and more. On Amazon, dog repellent devices are available ranging from Rs 300 to Rs 2000 and even more depending on the specifications and quality. A dog repellent device generally uses a 9-volt battery and the user can use it from a range of 3 meters if any canine attacks them or even train the aggressive canine meaning it can be used for training as well.
Dog attacks in India
Ghaziabad: Pitbull mauls 11-year-old playing in Park in gruesome viral CCTV footage; received over 150 stitches
Talking about dog attacks in India, the recent incident took place in Kerala. In a video going viral, a group of stray dogs were seen chasing after some kids. The frightening video was shot in Kannur, Kerala. Fortunately, the kids manage to get into the compound and slam the gate just before the dogs made their way into the building premise.In another incident, a pet dog of the Pitbull breed attacked an 11-year-old boy who was playing in Ghaziabad and seriously injured him. The Ghaziabad Pitbull attack incident took place last Saturday, September 3. To be precise, the gruesome incident took in the Bapudham area of Sector 23 in Sanjay Nagar of Ghaziabad. The minor got over 200 stitches.
A few days back, a minor was bitten by a dog inside a lift of the Charms Castle society located in Rajnagar Extension in Ghaziabad. The woman who was the owner was slammed for not helping the boy after her dog jumped and bit him. Furthermore, a German Shephard (pet dog) attacked a man inside the lift of the Apex Athena society in Sector 75 of Noida. Amidst rising dog attacks, two women were also involved in a verbal argument. The incident took place in Greater Noida's Ace Aspire Society in which two women got involved in a heated verbal argument about taking a pet dog inside the lift.