Published On
Explained: 7 reasons why AAP is leading in Punjab Elections 2022
The Aam Aadmi Party (AAP) has crossed the majority number of 59 in Punjab as counting for Punjab Election continues on Thursday.
Author :
Priyanka Vinayak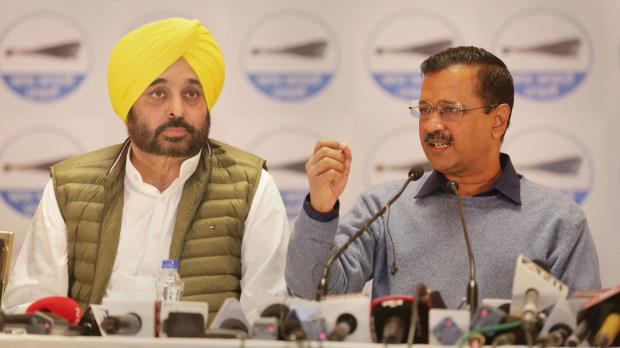 The Aam Aadmi Party (AAP) has crossed the majority number of 59 in Punjab as counting for Punjab Election continues on Thursday. Meanwhile, Charanjit Singh Channi is trailing behind Aam Aadmi Party candidates in his traditional seat, Chamkaur Sahib, as well as in Bhadaur.
Still viewed as a new entrant in Punjab politics, AAP has had a roller coaster ride. Bhagwant Mann is in the political race of his life. The Aam Aadmi Party's (AAP's) chief ministerial candidate has created a buzz in the state with the slogan 'Ik mauka Bhagwant Mann te Kejriwal nu'.
What led Aam Aadmi Party to make a clean sweep in Punjab?
1. Change is the keyword
People of Punjab were looking for a change. This is the first time when it is a five-cornered contest to elect the ruling party in Punjab. Earlier it was a direct contest between the SAD-BJP alliance and the Congress. Both parties have taken turns to rule the state, but patience has been wearing thin with them over unfulfilled promises and corruption allegations. AAP's slogan to bring a change raised hope for the people of Punjab.
2. The Delhi-Model
Delhi's CM Arvind Kejriwal tried to woo the people of Punjab with his Delhi-Model. Quality government education, health, power and water at cheap rates were the key highlights of this model. Due to high electricity rates and the lack of proper health facilities in Punjab, voters opted for a new party instead of traditional parties. The previous parties raised hopes but failed to fulfill their promises.
3. Freebies to voters
The party had a head-start in announcing freebies by promising ₹1,000 per month to women, free power, free medical treatment, and free education. In his public rallies, Kejriwal tried to woo the Dalits and the middle-class with promises of subsidies - jobs, free electricity and water. Even a world-class stadium and an international stadium are on the cards.
4. Announced Bhagwant Mann as the CM Face
While Kejriwal remains the key face of AAP, the party's chief minister candidate Bhagwant Mann, despite being a controversial figure, very well proved to be the trump card for AAP in Punjab. Mann is the only party leader who got elected to the Lok Sabha twice after winning polls. In the 2019 Lok Sabha polls, he was the only AAP leader who won for the second time. Mann has so far not opposed the party's leadership. Before entering the world of politics, Mann was a big comedian. He is the only leader in Punjab's AAP unit who has a strong fan base and is a crowd puller.
5. Victory in Malwa
Malwa is a region of India in the southeast of the state of Punjab and parts of Haryana and Rajasthan, between the Sutlej and Yamuna rivers. The belt south of the Sutlej River sends 69 members to the Punjab Legislative Assembly. Whoever wins in this field has a good chance of forming the government. AAP promised the people of the Malwa region to build proper lanes and drains which they couldn't see even after 70 years of Independence.
6. BJP's aggressive campaign
Bhartiya Janta Party's aggressive campaign resulted in a shift of Hindu voters towards itself. They used to support Congress Party. This caused a major loss in voters' share to Congress. Moreover, urban voters shifted towards AAP.
7. Congress Vs Congress
The internal squabbles in Congress had an insignificant influence on the party. It was a never-ending series of fights and warfare among the party leaders. At various constituencies, political leaders were seen opposing their own party's candidates. For instance, from Jalandhar Cantt, Channi's close relative was opposing Pargat Singh from the same party.